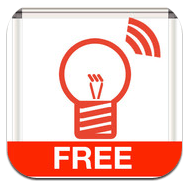 Whiteboard Free, developed by Raizlabs Corporation, is a handy app for collaborating with friends and colleagues over Bluetooth. Raizlabs also offers a Pro version of this app for 99 cents, which basically only differs because it has more marker colors than the Free version.
What is it and what does it do
Main Functionality
Whiteboard Free can be used solo as a time wasting tool for making doodles. More usefully, you can also use it to collaborate with other Whiteboard users. Whiteboard Free automatically connects you with other nearby users who are running Whiteboard Pro or Whiteboard Free, using Bluetooth technology. Once connected you can collaboratively draw and sketch together to create art or brainstorm ideas during business meetings.
Pros
Images/text created in the app can be shared via Copy, email, Facebook, Tumblr, Twitter, or being saved to your Photo Album.
Bare bones, stripped down UI
Marker tool is responsive to the touch of your finger
Color saturation of the marker tool is just like a real marker: move slowly, and it's more saturated than when you move the marker pen quickly
Can't beat the price for a collaborative app
Good for collaborating with a group of people who all have different iOS devices of various ages
Cons
Both free and Pro versions have not been updated since 2010, indicating little investment on the part of the developers and little chance of future improvements
Single marker color is limiting
Eraser tool is too small and not adjustable: erasing takes forever (unless you hit the trash button and erase the whole screen)
Discussion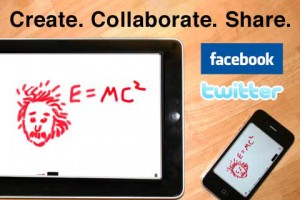 Whiteboard Free is a cheap app, both in terms of price and quality. It's functional, to be sure, but it's a little too stripped down. Rather than feeling like an intentionally bare, minimalist app, it instead feels a bit slapdash.
It's not all bad: the ability to collaborate with colleagues over Bluetooth automatically is a really excellent touch. Additionally, there are a number of ways to share beyond Bluetooth, such as exporting to social networking sites.
One thing that is really great about Whiteboard Free is the fact that it stays open until you shut it down. Even if you have your iPhone set to turn off its screen after a minute in your settings, Whiteboard Free stays open. That makes it perfect for extended meetings or brainstorming sessions where you don't want to have to keep tapping your phone to keep it from going dark.
But as great as that selling point is, the eraser tool completely depletes any goodwill that Whiteboard Free generated from making the screen stay open. The eraser is way, way too small. Worse, it's not adjustable at all. The eraser tool seems to be exactly the same size as the tip of the marker tool, which means it takes FOREVER to erase every line you make.
Conclusion and download link
Whiteboard Free isn't a bad app, but it's not exactly a good one, either. There is something to be said for the way it works across so many various iOS platforms, however. In situations where you want to collaborate with people who maybe aren't the most tech-savvy, the lack of bells and whistles here is actually kind of a selling point.
There are more robust whiteboard apps out there, and some of them are even free. Download Whiteboard Free and try it out, but chances are you'll delete it to make room for a better, free whiteboard app with more tools.
Price: Free
Version reviewed: 1.5.1
Requires iPhone/iPad/iPod Touch, iOS version 3.0 or later
Download size: 1.6 MB
Whiteboard Free on Apple App Store
Related Posts