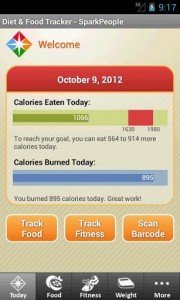 Diet & Food Tracker is an app designed to keep you healthy. This is perfect for busy people who do not have time to properly plan out a diet or exercise schedule. This app is also great for people with difficulty organizing data into useful purposes.
What is it and what does it do
Main Functionality
This app purpose is simply to help you keep track of data that is easily forgotten or lost. What you eat and how you exercise can be difficult to remember over time, so this app provides a simple way to document everything.
Pros
Food and calorie tracker
Over 1 million foods with included meal plans
Fitness tracker with calories burned
Weigh-in
Detailed weight & calorie reports
Barcode scanner
Cons
Doesn't include all features from SparkPeople.com
Barcode scanner misses foods
No goal support
Ugly UI
Discussion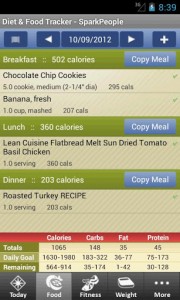 Diet & Food Tracker is an app that will serve as an extension of the website Sparkpeople.com. The actual website is a pretty terrific service for keeping track of your health, so now the primary features can be experienced on Android. This app will primarily serve as a way to track what foods you eat and how many calories they are. This app has over 1 million foods already in its database. As a result, it is capable of displaying possible meal plans if you having difficulty finding healthy meals.
This app will also serve as a fitness tracker in order to keep track of how many calories you have burned. This allows you to easily determine how many calories you have ingested, compared to how many calories you've actually burned. While you won't be able to get specific with the type of workout you've done, you will in fact be able to report your weight whenever you want. This allows you to see if the app has actually been working for you.
The app has a built in barcode scanner for all different types of food. Just scan the barcode, and you should receive all the necessary information about the food you are about to eat. The app will also provide you with detailed weight and calorie reports. this makes it incredibly easy to organize all of the progress you have made.
While this is a great service, there are some areas that can be improved. For starters, all of the features on Sparkpeople.com are unfortunately not present in this app. Additionally, sometimes the barcode won't scan at all or if it does, doesn't provide accurate information. Also, there is no place to add weight goals or any other type of accomplishments you hope to achieve.
Conclusion and download link
Overall, this app can be a very convenient way to keep track of your health. However, until the developers add more features from the actual service, this app won't make much of a splash. This is in part due to the fact there are more complete apps out there, but also because current users of Sparkpeople.com will not want to use an app that has less features than the service they are used to.
Price: $3.99
Version reviewed: 2.1.6
Requires: Android 1.6 and up
Download size: 2mb
Diet & Food Tracker on Play Store
Related Posts