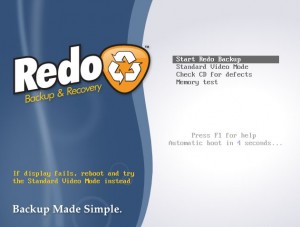 Many people live in fear that their computer could crash at any moment. Alright, maybe not in fear, but it is something that I think about from time to time. Thus, backing up my system is something that is important to me. Redo Backup and Recovery is a very simple program that just about anyone can use. The goal of this program is to make it easy to backup and restore your system when needed.
WHAT IS IT AND WHAT DOES IT DO
Main Functionality
Redo Backup and Recovery is a program that is designed to give you a little piece of mind. With Redo Backup and Recovery you can easily backup and restore your computer; it even has a quick restore feature which the developer claims will have allow you to restore your files to a functional state again within 10 minutes, if you are to get a virus that wipes out your computer. Redo Backup and Recovery does this for free and without having to install the program.
Take note Redo Backup and Recovery is an "image" or sector-level backup program.
Pros
No installation required
Can be booted from a CD or USB device
Runs outside your operating system (OS), so it will backup or restore virtually every OS
Quick restore can have you up and running again in 10 minutes
Cons
Large download size (214MB, which really isn't a bad size considering it is bootable)
You'll need to burn the .ISO image you download online to a CD (or USB) with a burning program before you can use it
Discussion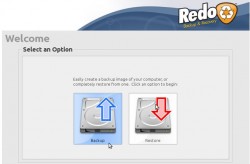 There are a lot of different "backup" programs on the market, but few of them work as well as Redo Backup and Recovery. This is a program that can have your computer back up and running from a complete melt down in as little as 10 minutes.
Using Redo Backup and Recovery is about as easy as a backup system can be. Of course, getting everything set up may be a different story. To make sure that there is no confusion, I am going to walk you through how you get Redo Backup and Recovery ready to go.
First you need to go to their website and download the latest "live CD image". See, you're not actually downloading an executable program, as you are downloading a CD image. Also, don't expect this download to be extremely fast. After all, the CD image you are downloading is about 214MB. Once the download is complete, you need to burn this .ISO file to a CD. This can be done with just about any CD burning program.
At this point, you will want to put the CD in your CD-ROM drive and reboot your system. A reboot has to be done, because Redo Backup and Recovery does not run within your OS. In fact, Redo Backup and Recovery is kind of its own operating system. Keep in mind that, during the boot process, you may need to hit F8 or F12 to get this CD to boot.
Once you get the CD to boot it is a cake walk. The CD will boot up a mini operating system, which will launch Redo Backup and Recovery. Now you can choose to back up your system or recover back to a safe state.
There are also options on the main website on how to run this program from a USB stick if you want. I did not choose this option, so I am not sure how easy that process is. However, creating a CD was easy enough, so I assume that the USB walkthrough should be pretty simple as well.
CONCLUSION AND DOWNLOAD LINK
I have used a lot of backup and restore programs in my time, but this one really seems to be one of the best. The download takes a while, but it is worth your time. You will need an image burning program in order to create the CD, but there are a ton of them out there to choose from (such as ImgBurn). Once you get this program up and running, you can rest easy knowing your computer is fully protected.
Price: Free
Version reviewed: 0.9.8
Supported OS: Any operating system (because the program does not run in the OS)
Download size: 214MB
VirusTotal malware scan results: File too large to scan
Is it portable? Yes
Redo Backup and Recovery homepage
Related Posts