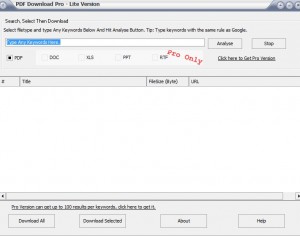 Sick of surfing the web looking for PDF files to download? Maybe you're searching for that "certain" PDF file, and you can't seem to find it? Well, your search is over thanks to PDF Download Pro Lite. This is a free program that will actively search Google for PDF files that relate to the keywords you type in.
WHAT IS IT AND WHAT DOES IT DO
Main Functionality
PDF Download Pro Lite does just what it sounds like it does. The program searches the internet for PDF files according to the keywords that you type in. This program will save you time by bringing all of the PDF links to you. Then you simply pick and choose which PDF files you want to download.
Pros
Search all over the web without leaving this program. Simply type in a keyword and results start pouring in.
Pick and choose which PDF files to download or click the "download all" button
Results are found quickly
Cons
Not available on U4Soft's official website yet, and thus has to be downloaded via CNET with their ad-supported installer.
First CNET asks if you want to install a toolbar, and then PDF Download Pro Lite asks if you want to install a different toolbar. Thankfully you can avoid both of them by unchecking the box, but still very annoying.
Lite version will only search for PDF files. You have to buy the pro version to search for other files like .doc, .rtf, .ppt, .xls
Discussion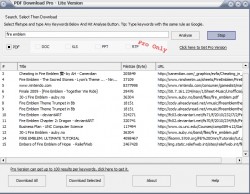 PDF Download Pro Lite is a simple program with a simple goal. It is designed to save you time by quickly searching Google for the PDF files you want. All you have to do is type in the keywords of the PDF file you want to find, and it quickly brings them to you. No longer do you have to surf through page after page of Google results looking for PDF files.
The process is really very simple. Open up the program and type in the keywords you are searching for in their box. For example, if you're looking for cooking eBooks, type that into the search. Then, PDF Downloader Pro Lite will locate all of the PDF files meeting your search terms.
After your results are pulled up, simply pick and choose which files you want to download. If you want them all, there is a very handy "Download All" button located at the bottom of the program. No matter how many you choose to download, it goes pretty quick.
Although the program does save you a lot of time, there are a few things that are kind of annoying. First, the free version (or Lite version) can only search for PDF files. If you upgrade, you can search for .doc, .ppt, and so on. This feature would have been overlooked if they did not rub it in your face by always showing the files you can't download at the top of the program.
The last thing I want to point out is that this is a new program. It is so new, that they don't even have it available on their official website (U4Soft), at least not where I could find it. This means that you have to download it from another site, like CNET. I typically hate downloading things from CNET, as you have to use their ad sponsored installer, which always offers different toolbars and programs it wants you to download. To make matters worse, PDF Downloader Pro Lite also offered toolbars during its installation. I hate when programs offer me just one extra program during installation, but I think I had to turn down three different programs to install just this one.
CONCLUSION AND DOWNLOAD LINK
Overall, the program itself is easy and fun to use. I found myself searching for PDF files I wasn't looking for by typing in random keywords. You will be shocked to find out just how many different PDF files you can find. That being said, I could have done without all of the "pushing" to download other programs and toolbars during instillation. Not a big deal for most, but it is just one of those things I hate. If I wanted another toolbar for my browser I would get one myself!
Price: Free
Version reviewed: 1.0
Supported OS: Windows 98 / Me / 2000 / XP / 2003 / Vista / 7
Download size: 936KB
VirusTotal malware scan results: 2/44
Is it portable? No
PDF Download Pro Lite download page
Related Posts