Are you sick of how long it takes to defragment your computer? The truth is, we should all defragment our computers regularly, but most of us simply don't ever get around to it. Well, maybe WinContig can help. This is a program that makes defragmenting your computer easier, because it allows you to defragment specific files or folders rather than the whole disk.
WHAT IS IT AND WHAT DOES IT DO
Main Functionality
The main propose behind WinContig is to save you time. Let's face it; we don't use all of the areas on our drives between defragmentations. However, that does not stop most defragmenters from "defragmenting" them anyway. Now you can avoid checking your whole disk and just defragment specific files. This leads to a quick and easy defragmentation.
Pros
Quickly defragment your computer by choosing specific files to defragment instead of the whole disk
Layout is very nicely done. You wont have to hunt for the buttons you need
Appeals to users of all skill levels — very straightforward
Not a resource hog (was able to continue to use my computer during defragmentation without any noticeable slow down)
Can load and save profiles
No installation required, completely portable
Cons
No "Help" feature offered. This became a problem when trying to figure out the "profile feature"
Discussion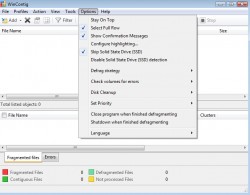 There are a number of defragmentation programs out there, but few of them let me pick and choose the areas of my computer that I want to defragment. That is the main thing that got me interested in WinContig in the first place. In the end, I was glad I tried it, because I only had one major problem with the program (we will get to that in a second).
First, this is a program that is very straightforward. If you have ever used any defragmenter, you will have no problem using this one. It was apparently made with "users of all skill levels" in mind. All of the files and options are clearly marked at the top of the screen. So you don't have to hunt for the 'analyze' or 'defragment' buttons.
Of course, the coolest feature about WinContig is the fact that you are able to pick and choose which files you want to defragment. This is great, because not having to defragment folders that you don't use a lot will save you time. Picking which files you want to defragment is not only easy, but it is actually a quick process. If you want to defragment the whole computer, you can do that as well.
Another thing that really impressed me with this program was the fact that I was able to continue to work on my computer without any kind of slow down. Many defragmenters I have used in the past use up so much system resources that I have to let it run its course before I can do anything else.
The program also had an interesting profile system. This also brings us to my only complaint about the program. It was not very clear on how to use this profile system. That being said, they don't provide you with any help files on the matter. Looking around online, I see that I am not the only person who had a hard time understanding this feature. The rest of the features in the program are intuitive enough, but they really seemed to drop the ball with this "profile system".
CONCLUSION AND DOWNLOAD LINK
WinContig comes all nice and bundled in a ZIP file. Once you unpack it, you're good to go. No instillation required. The program works fast, and it is nice to be able to choose which folders you want to defragment. If you had your heart set on using the "profile system," don't expect to be given a walkthrough by this program…or any help at all for that matter.
Price: Free
Version reviewed: 1.15
Supported OS: Windows XP / Vista / 7
Download size: 865KB
VirusTotal malware scan results: 0/44
Is it portable? Yes
Related Posts