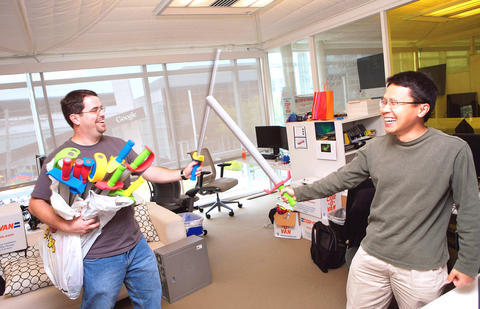 I've always heard good things about Google's headquarters, from nap areas to being able to work on your own personal projects on paid time. A list published by Great Places To Work on the 25 best places to work around the world shows that these efforts by Google have paid off. Google is not only among the top 5 but is considered by Great Places To Work as the second best company in the world to work for, second only to SAS Institute.
The highlight for Google's spot in the list is Google's "CareerGuru" program, which "matches Google executives with Google employees to provide confidential, one-on-one career coaching and guidance around the subjects of work-life balance, personal and professional development, communication styles, and conflict resolution, among others." In my opinion, however, I think what is most notable is what employees have to say about Google:
Though there are plenty of places in the Silicon Valley where you can make money fast, Google is a place you can call home. Your coworkers are your friends, and everyone is passionate and really great at what they do. It's not just the company, it's the people that make Google truly great.
Also featuring in the top 5 is another tech giant, Microsoft; this year Microsoft is #5 whereas last year it was #1. It appears that Microsoft's more significant pro is how they are pushing for gender equality in the work place, and promoting the fact that women should pursue more careers in technology because they can, of course, make as much of a difference as anyone. And, of course, their employees love them:
This has truly been my dream job. I've never worked for such a wonderful company. Microsoft truly cares about their employees.
Sadly enough, the most valuable company in the world (Apple) is no where to be found on the list, not in the top 5 or top 25. Maybe that is why they recently introduced new employee perks.
Amidst all the news about lawsuits, factory worker abuse, and other negative things, it's great to hear that there are companies that care about their employees, make an effort to improve their employees' lives, and have results to show for it. Hit up the Business Insider link below to see the whole top 25 list.
[via Business Insider, image via Taipei Times]
Related Posts