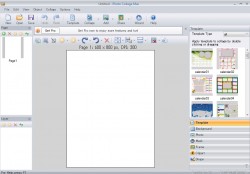 Making calendars, greeting cards and photo walls can be hard if you don't have the right software. The good news is that Photo Collage Max is here to help. Although the program comes off feeling more like a demo (because of the watermarks), it is definitely worth checking out. It offers tons of different templates and a wizard to help streamline the whole process.
WHAT IS IT AND WHAT DOES IT DO
Main Functionality
Photo Collage Max is a quick and easy way to make things like calendars, greeting cards or photo walls. The program makes creating these things easy, even for the most basic user. With tons of different templates to choose from, you can bet that you will find one to fit the "theme" you are going for.
Pros
Choose from tons of templates, including themes like birthday, wedding, seasonal, holiday and many more
Wizard helps you make quick greeting cards, photo walls and calendars
Save your pictures as .jpg, .png, .tif, .gif, .bmp
Offers you an easy way to send your collages in an email to friends and family, or even share your works of art on Facebook, MySpace or a blog
Print Preview gives you an exact look as to what your collage is going to look like after printing
The program's drag and drop ability makes it easy to upload tons of photos without having to keep adding a picture form the menu bar
Cons
It's free, but your pictures may be considered unusable due to the watermark they stick on each of them until you buy the pro version
Keeps reminding you to upgrade to their pro version (as if the watermark wasn't enough of a reminder)
The free version comes off feeling more as a demo than anything else
Discussion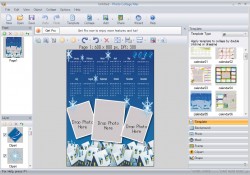 When you first start Photo Collage Max, it will open with a Wizard and ask you if you want to make a Greeting Card, Calendar, or Photo Wall. It is a helpful Wizard but if you don't want to use it, simply click the "Do Not Start Wizard" box and click cancel. As I wanted to mess around with the program a bit, that is what I did.
Once you get to the program itself, it reminds you (how nice of them) that you are using the free version, and to unlock all of the features, you are going to want to upgrade to the pro version. I just "love" when companies try to get me to upgrade before I've even tried the product.
If you're looking to quickly make a collage, I suggest using their Wizard. The program is not hard to figure out, but the Wizard really helps to get things moving quickly. Either way, the templates that you can choose from are all very easy to figure out, with spots all marked to "Drop Photo Here." This brings us to one of the cool features of this program. You can simply drag and drop any picture you want on the template.
Some other cool features of the program include the ability to resize and move your pictures wherever you want them, save your pictures in many different formats (including: jpg, .png, .tif, .gif, .bmp), view a Print Preview before you print out your collage, and the ability to share your works of art with your friends on Facebook, MySpace or a blog quickly and easily.
Overall, the program works great. It is a shame that they place an ugly watermark on your pictures until you upgrade to pro. I guess on the positive side, you do get a 30-day money-back guarantee…
CONCLUSION AND DOWNLOAD LINK
The program is a lot of fun to use and a quick way to make calendars, greeting cards and other collages of pictures. The only problem is the huge watermark they place on your pictures. In the end, the program feels more like a demo to see if you like using the program. If you want that watermark gone, you need to upgrade to the pro version.
Price: Free
Version reviewed: 2.1.6.6
Supported OS: Windows 2000 / XP /2003 /Vista / 7
Download size: 33.98MB
VirusTotal malware scan results: File too large to scan with VirusTotal

Is it portable? No
Related Posts