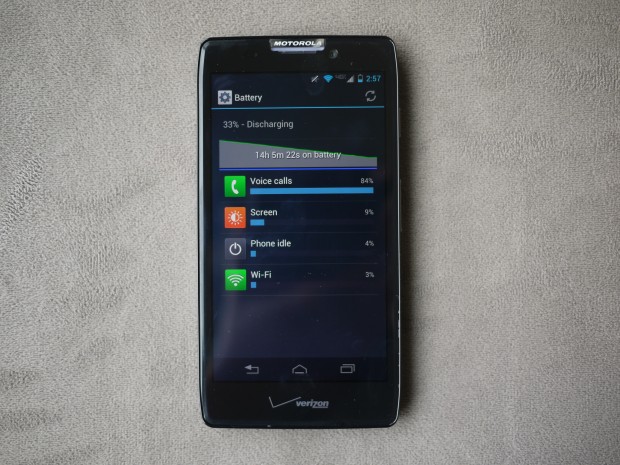 If mobile devices had unlimited, never ending power supplies… that would make me shat my pants. Unfortunately (fortunately?), there is no such thing as an unlimited, never ending power supply for a mobile device (yet). However, Motorola Droid Razr MAXX HD comes close… or at least closer than any other smartphone, to date.
Motorola Droid Razr MAXX HD comes with a massive 3300 mAh Li lon Polymer battery. Motorola claims this puppy provides 32 hours of "performance" or 23 hours of talk time on a single, full charge. AllThingsD put that claim to the test and the results are impressive.
In four informal tests by Bonnie Cha of AllThingsD, Motorola Droid Razr MAXX HD
Lasted 22 hours of continuous cellular voice calls (with WiFi turned on)
Continually played a video for 13 hours with screen at 75% brightness (which is brighter than what 'Auto Brightness' keeps most phones, in most situations), WiFi enabled, and e-mail sync on in the background before getting "low battery" alert
Was alive for "a day and a half" (36 hours) of "moderate use" (e.g. email, social networking, music consumption, web browsing, the occasional YouTube video, etc.)
Eeked out "almost 24 hours" of battery life with "power-hungry" tasks such as GPS, games, and long(er) videos
Compare the above to iPhone 5's eight hour talk time (official Apple estimate), Galaxy S III's seventeen hour talk time (official Samsung estimate), and the fact that iPhone 5 lasted nine to twelve hours of "moderate use" in another AllThingsD test. Yeah, there is no comparison: if battery life is important to you, Razr MAXX HD is your boy.
That said, if you grab a Razr MAXX HD, you aren't necessarily sacrificing other features and functionality for battery life. Indeed, Motorola Droid Razr MAXX HD is a mid-to-high-end phone that sports 4.7-inch 720×1280 (720p) Super AMOLED HD display, 1.5 GHz dual-core processor, 1GB RAM, 32GB internal storage (with support for up to 26GB microSD), 8 MP back camera, 1.3 MP front camera, Android 4.0 Ice Cream Sandwich, 4G LTE, and more. Sure it doesn't have Jelly Bean (doesn't Google own Motorola — why the hell don't Moto devices have Jelly Bean?!) and may be "only" dual-core, but if you look at the phone's battery life as the main attraction and the other features as extras, there is very little to complain about. (At least in theory — I haven't actually used the device myself, so don't take this as a review from dotTech.)
Unfortunately, in the United States Droid Razr MAXX HD is available only through Verizon and comes at a hefty $300 with two-year contract. There doesn't appear to be a GSM-only version of Droid Razr MAXX HD, not even outside the United States. On the bright side, Droid Razr MAXX HD has "global roaming" so it has GSM radios built-in; if you take the phone outside the Untied States, you can use it on 2G/3G GSM networks. In the United States, however, going with Verizon (and outrageous cell phone plans) is a price you must pay for that awesome battery life.
Motorola Droid Razr MAXX HD homepage
[via AllThingsD]
Related Posts