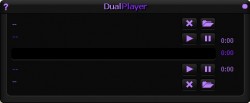 Dual Player is a pretty easy-to-use program that allows you to quickly compare two sound files. The whole point behind doing this is so you can easily tell if there is a difference between these two files. Let's see how well Dual Player does.
WHAT IS IT AND WHAT DOES IT DO
Main Functionality
Dual Player can be used to quickly compare two sound files. By using this program you can quickly and easily find out if the music files have any differences. This should give you the upper hand when choosing which of these two music files you would like to delete.
Pros
Dual Player allows you to compare two music files side-by-side for easy comparison
If the music have the same file time and length, you can create hashes to compare them
Works with many music formats (I only tried WAVE and MP3 files)
Cons
Uses CNET for the download and, thus, have to deal with CNET pre-installer
As if CNET's pre-installer was not enough, Dual Player tries to get you to install toolbars during installation, so be on the lookout for those
If the music files are in different formats or are different lengths, then you can't use hashes to compare them
Discussion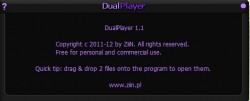 Dual Player is not a bad program, but it is not great either. In a nutshell, you can use Dual Player as a program to help you compare two different sound files quickly and easily. It is able to accomplish this task nicely. However, a few drawbacks with the program keep it from being one of the greats.
First, I have to make note that the program tries its best to get you to install programs you don't need. If you download it from CNET, you are going to get hit double hard, as their pre-installer tries to get you to do the same thing.
Now that we got that out of the way, Dual Player works great when comparing music files that are the same type and same length. When they are, you can use hashes to help compare the two different files. This makes it easy to choose which ones you want to keep and which ones you are going to delete.
That being said, the biggest problem with Dual Player is the barriers it puts up. If your two file types are not the same type, then you can't use hashes to compare them. On top of that, you cannot use hashes to compare music that are different lengths. For some this may not be a problem, but there are other programs out there that allow you to do this.
CONCLUSION AND DOWNLOAD LINK
Dual Player is free and easy to use. However, because of some of its drawbacks, I cannot highly recommend this program to people. I feel like you may be able to find a better music comparing tool out there. However, if you are desperate and don't mind the drawbacks of this program, it may be worth your time to give it a shot.
Price: Free
Version reviewed: 1.1
Supported OS: Windows 98 / Me / 2000 / XP / 2003 / Vista / 7
Download size: 576KB
VirusTotal malware scan results: 0/34

Is it portable? No
Related Posts