Recording video off your computer is something that a lot of people like to do. However, finding a good free video recorder can be hard to do. When I first came across AnvSoft Any Video Recorder I figured it would be more of the same. However, I have to admit, after spending some time with it, I think it is one of the better free ones out there.
WHAT IS IT AND WHAT DOES IT DO
Main Functionality
Any Video Recorder is a very simple-to-use video recording program. It can help you capture video from online TV shows, video sharing sites like Netflix and Hulu, and even capture video from purchases you make on iTunes DRM videos. If that is not enough, you can even use this program as a screen capture device. It will take a video of everything you see on your computer screen, including audio.
Pros
Easily record video streams from sites like Netflix, Hulu, BlockBuster, and more to watch when you are offline
Can record DVDs that you have legally acquired
Can be used as a "screen capture" tool for capturing video, sound and picture of anything you are doing on your computer.
Any part of your screen or even the whole screen can be recorded.
Perfect for making tutorials and demonstrations.
Supports video detection online
The program runs great and requires very little system resources
Records video as MP4 format, so recorded videos will work on most portable devices as well
Great video and audio quality
Cons
It is not able to convert recorded videos
Experienced problems while installing on Vista. Had to uninstall and try again to get it to work.
It also appears that a restart of your computer should be done before running the program (according to online forums).
Had a few problems with the program only recording audio and no video.
Discussion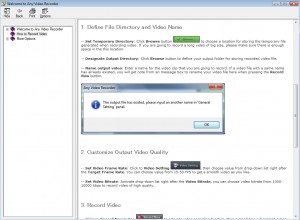 First let me say, when Any Video Recorder works, the quality is amazing. In fact, there were a few times that the video came out looking better after being reordered than it did online. This has a lot to do with the fact that you have the ability to adjust things like frame rate and bit rate.
Any Video Recorder can do a number of things, and it does most of it really well. First, you can use this program to capture any video you see online – whether it is on YouTube, NetFlix, Hulu, or whatever. Capturing videos off the internet has never been easier, because it auto detects them. Simply start up Any Video Recorder, hit the record button, and it will place a red box on the video it detected in your internet browser. Then just adjust the box to the size of your liking and hit record!
Of course, you are not limited to just recording videos off the internet. It will record videos of anything that is happening on your computer screen. This does include DVDs that you are watching, which makes this program a great way to digitally backup your DVDs. Just put in a DVD that you legally acquired (play nice guys), and record the video for private use.
The program can also be used as a screen capture tool. Just adjust the video record box to capture the area you want to record (you can make it full screen if you want) and hit record. It will capture mouse movements, sound and everything else on screen. Perfect for making tutorials.
It is worth pointing out that I did have a bit of trouble getting the program to install on Vista. It took two attempts and a computer reboot to finally get it going. However, after it was installed, it seemed to run fine. Out of the many videos I recorded, only two had problems. Not sure what the deal was, but I was only getting audio and no video. I was able to move my recorded videos to my phone and watch them on there without any issues.
CONCLUSION AND DOWNLOAD LINK
Any Video Recorder is a great program that can really help you record any video you want right off your computer. It is completely free and does not use a lot of computer resources. I did have a few hiccups with Vista, but in the end, the program still worked perfectly. I highly recommend it for people looking for a new video recorder.
Price: Free
Version reviewed: 1.0.1
Supported OS: Windows XP / Vista / 7 / 8
Download size: 5.49MB
VirusTotal malware scan results: 0/39
Is it portable? No
Any Video Recorder download page
Related Posts