s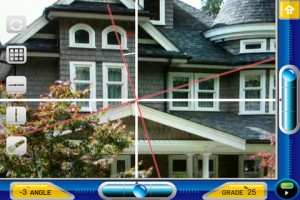 ightLevel is an iPhone app developed by Auman Software, LLC. This universal app allows users to use their phone like a laser level.
What is it and what does it do
Main Functionality
sightLevel can be used to find a level line, or to judge the slope of a driveway or landscaping project on your property. Whether you are working on a small project like hanging a picture or a big project like installing a fence, this free app can help you prepare to tackle whatever comes your way (as long as it involves lines or angles.)
Pros
Works with the camera on your device to give you a perfect level, even from a great distance away
Screen of the app includes two bubble levels, as well as digital readouts for the current angle and grade of your project
Far cheaper than a traditional laser or bubble level that you would buy at a hardware store
Multiple lens overlays (Horizontal, Vertical, and Grid)
Two finger gesture lets users manipulate angles
Camera can use live feed, or you can freeze on a still image of your project and overlay the level grid on top of the image
Cons
Annoying banner ads
Users have to upgrade to Pro version in order to get the version of the app that includes a flashlight
Novice DIYers may want an app that has more advice and helpful tips for use
Discussion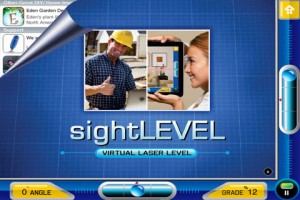 sightLevel is a pretty simple, straightforward app. If you've ever used a bubble level or laser level in your life, you'll feel right at home with this intuitive, easy to use home improvement app. It is very easy to get exactly the level you need, be it vertical, horizontal, or a grid overlay.
While the banner ads along the top of the screen in sightLevel are especially annoying (I think because of both the font style and the general lack of proper capitalization), they don't get in the way much. Pop-up ads would be much more problematic in an app of this type, as they would do more to interrupt your workflow.
sightLevel is overall a solid app. It could use a few less ads (as the recommendations under the home button in the app are basically just ads.) Whether you want to use the camera, or just place your phone on a surface to see if it is level, this free app is worth trying out.
Conclusion and download link
If you have a picture you've been meaning to hang for weeks, or want to start doing more DIY projects around the house, this is a great entry-level iPhone app for all your home improvement projects which require judging the levelness of lines or the orientation of angles.
Price: Free
Version reviewed: 3.0
Requires iPhone/iPad/iPod Touch, iOS version 4.2 or higher
Download size: 3.9 MB
Related Posts