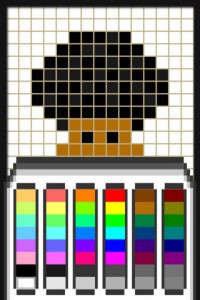 Bit Draw is an iPhone app developed by Touchtastic. This app makes it easy to make colorful pixel art, which you can share with others or just use to entertain yourself with.
What is it and what does it do
Main Functionality
Bit Draw lets you make pixel art with a few taps of your finger. You can save your images into the gallery, or use pixel art already in the gallery as a jumping off point. Additionally, you can order shirts, stickers, or mugs with your own design on them from within the app.
Pros
Grid-based drawing system make it simple to create detailed, colorful picture art
Award-winning app (Winner at AppCircus Villahermosa MX, and nominee for a Mobile Premier Award 2012)
Attractive retro-style design
Cons
Hard to navigate back to previous screens or pull up color palette
Tends to crash unexpectedly, even with no other apps running in the background
No integrated social media sharing buttons on the main drawing screen. If you want to share, you need to make your own screengrab from the in-progress screen, or save to the gallery and then share from there.
Placement of in-app advertisements is annoying
No tutorials to help novice pixel artists
Discussion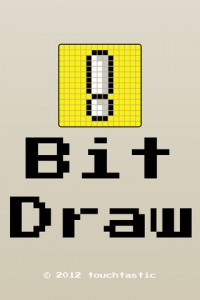 If you're a fan of old school video games or popular web comics like Diesel Sweeties, it's hard to resist the urge to make your own retro-style pixel art. Bit Draw's grid system makes drawing these pixel masterpieces pretty simple. Unfortunately, there are some issues with Bit Draw that make using the app a little frustrating.
First and foremost are the frustrating navigation controls. They're a bit buggy and under-sensitive, so the swipe gestures to bring up the color palette menu are hit or miss. If the swipe gesture doesn't get read correctly, your touch will cause you to erase or discolor your art, rather than bring up the menus for color or navigating to the previous screen. Hopefully the touch controls will get a bit spruced up in the next update.
However, the ability to order your pixel art designs onto a custom made t shirt, mug, or sticker is pretty darn cool. Unfortunately, both times I attempted to go through this process, the app crashed on me.
Making good pixel art is tricky to get the hang of, especially when it comes to creating depth and shadows. It would be great if future updates for Bit Draw had tutorials, even if users had to pay to access them.
Conclusion and download link
Bit Draw is a decent pixel art app. Once the swipe controls get a little more refined, this drawing app will be a lot easier to recommend. For now, download it and play around…but brace yourself, because you are bound to get a little frustrated with the controls until the next update happens.
Price: Free
Version reviewed: 1.0.2
Requires iPhone/iPad/iPod Touch, iOS version 4.1 or later
Download size: 1.6 MB
Related Posts