Two of the many new features in Android 4.2 Jelly Bean are lockscreen widgets and direct camera access from the lockscreen (without having to unlock your device). If you have a device on Android 4.2 Jelly Bean or higher, you will have these two features. However, not everyone likes having widgets and camera access via the lockscreen because, frankly, that defeats the purpose of the bloody lockscreen in the first place. If you are one of these people that don't want widgets and camera access on the lockscreen of your Android device, this guide shows you how to remove them.
This tweak works on all devices running Android 4.2 and higher.
Before we begin
Take note by disabling lockscreen widgets, Android will automatically place the default Desk Clock widget on your lockscreen. It is not possible to remove this clock widget, although you can resize it as you desire.
How to turn off widgets and camera shortcut on lockscreen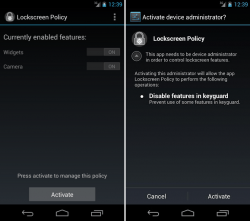 Disabling lockscreen widgets and the camera shortcut is actually very easy; do the following:
Download and install Lockscreen Policy app.
Once installed, run Lockscreen Policy app.
When you have it running, you should see an "Activate" button at the bottom — tap it.
You will now be prompted with the "Activate device administrator" screen and will be asked to give Lockscreen policy administrator access. Tap "Activate" from the bottom.
Now you will be taken back to the Lockscreen Policy app (if you aren't, manually run it). When back at the app, you should see two options, each with an on/off toggle — "Widgets" and "Camera". Tap the toggles for each to turn them to "Off". If you don't want to disable both, you can disable one or the other — you don't have to disable both.
Close Lockscreen Policy app.
Done! Now you will no longer have lockscreen widgets and/or camera access on your lockscreen.
Conclusion
Enjoy your Android device without lockscreen widgets and camera shortcut!
Related Posts