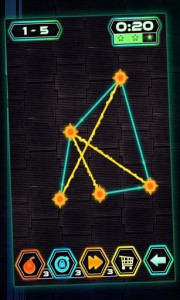 Wired is a unique game that will challenge you in a very unique way. This puzzle game will be great for visual people who love tricky visual puzzles. It will also be fantastic for people who have grown tired of standard puzzle games and are looking for something completely unique.
What is it and what does it do
Main Functionality
This app is designed to challenge you by making you untangle lasers. It designed to offer a modern feel while also utilizing a new puzzle format.
Pros
Unique gameplay concept
Simple for children
Later levels challenging for adults
Entertaining colors
Shop with power-ups
Cons
Not exciting enough to play for long periods of time
Occasional crashes
Discussion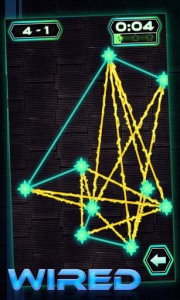 It's not very often that a completely original game comes around. Wired is a very simple but very unique game. It uses familiar Android gestures and fantastic colors to create a modern experience that is completely new. What is interesting about Wired, is that while it can be difficult to grasp at first, the concept becomes incredibly simple. If a child wished to play the game, they definitely could once they get used to the concept.
The entire concept of the game is to untangle lasers. This is done by adjusting intersections of the lasers. Another way to think about it is that you have to adjust the pints so that none of the lasers are crossing each other. The beginning levels are easy and great for beginners. However, the further you get, the more tangled the lasers become. While the game remains relatively easy, the final levels are very difficult as it becomes a race against the clock.
There are several power-ups that you can get from the store. The first one is a bomb. This will destroy one movable point. Doing this will aid you by narrowing down the number of points you have to deal with. You can also have a freeze power-up. This power-up will stop the clock so you have more time to solve the puzzle. You can also buy a skip power up which allows you to skip forward one level.
Conclusion and download link
Overall, this gamer is incredibly entertaining can can be enjoyed by players of all ages. This game is incredibly unique and really has no other counterpart in the market. While the game can be somewhat buggy and can sometimes lack excitement for long periods of time, it is still great for quick sessions.
Price: Free
Version reviewed: 1.0.3
Requires: Android 1.5 and up
Download size: 12mb
Related Posts