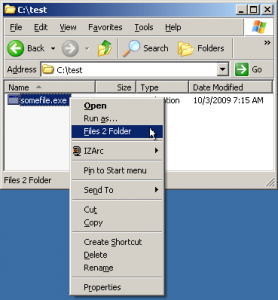 The folder creation system on Windows has not changed much since…I don't know…'98? Now thanks to Files 2 Folder, you can easily create folders for your files with just a few clicks of your mouse. By simply right clicking a file, you can select Files 2 Folder from the pop up menu and create a folder. It is that easy.
WHAT IS IT AND WHAT DOES IT DO
Main Functionality
Files 2 Folder is a simple program that allows you to quickly make folders for your files. Simply click on the file you want to make a folder for, choose Files 2 Folder from the pop up menu and you're done. It even allows you to select multiple files at once and come up with your own name for the folder.
Pros
If you select just one file, the name of that file becomes the name of your folder (minus the extension). Your file is then moved (not copied) into the newly created folder
If you select multiple files at once, it gives you the option to create a new folder for each file or to lump all of the files together into one folder that you will create a name for
Extremely quick and easy to use
Comes with a handy "Help" file that should answer any questions you have about the program
After registering the shell extension, a shortcut will appear that will allow you to quickly un-register the shell extension should you need to do so
Cons
Had problems getting the Files 2 Folder option to show up in my right-click menu on Vista. After un-registering and re-registering the shell extension a few times I was finally able to get it to work.
Discussion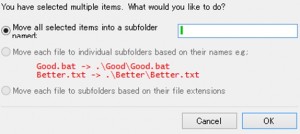 Files 2 Folder is a simple program that can actually be very helpful for some people. It is small, light and extremely user friendly. In fact, it is so easy to set up that I will walk you through it right now.
After you download the ZIP file from the download site listed below, simply unzip the files and click on the Files 2 Folder icon. A pop up menu will appear and ask if you would like to register the shell extension. Just click "Yes" and you're good to go. Well…that is unless you are using Vista. I did run into a few problems setting up the program in Vista but was eventually able to get the program up and running.
Using the program is just as easy as installing it (for non-Vista users). After the shell extension has been registered, find a file that you want to create a folder for and right click it. In the context menu, look for the Files 2 Folder option. Click on that and you're done!
There are a few things to keep in mind. First, if you just select one file, then the folder that you create will be given the name of that file (minus the file extension of course). The file will also be automatically moved to that folder (not copied).
If you select multiple files, you have a few more options. You can choose to either stick all of the files you just selected in their own individual folders, or you can lump them altogether in one folder. If you choose the second option, you do get to choose the name of the folder you stick them into. No matter which option you choose, all files will be moved to their appropriate folder.
CONCLUSION AND DOWNLOAD LINK
That's all there really is to Files 2 Folders, which is a good thing. With such a simple function, there is no need for this program to be complicated. The program is small, easy-to-use, and takes no time to get rid of if you don't like it.
Price: Free
Version reviewed: 1.1.3
Supported OS: Windows XP / Vista / 7
Download size: 600KB
VirusTotal malware scan results: 0/44
Is it portable? No
Related Posts