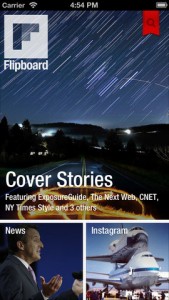 News no longer has to be restricted to paper. The trendy things in technology, health, lifestyle, home, design, style – whatever, really – do not have to be in magazines any more. Flipboard for iPhone can help you save on that monthly subscription fee to whatever magazine you have been religiously reading every week.
WHAT IS IT AND WHAT DOES IT DO
Main Functionality
Flipboard is a lovely free app for the iOS where you can read up on articles on different topics in a nice, easy to read interface. It's clean, neat and does not take long to load. Flipboard is exactly as its name is: a 'board' that you can flip – only this one is filled with tons of articles provided for you, right at your fingertips.
Pros
Flipping through the app is easy – simply swipe your finger upwards to go to the next page, and downwards to the previous page
With multiple different categories like Technology, News, Gifts, and Lifestyle (plus more) and different article websites like GlobalPost, Lifehacker, and Design*Sponge (plus more), you can keep up with almost anything with Flipboard
Aside from the categories and websites Flipboard comes with, you can always add your own by searching (yes, even dotTech is available)
Has ability to share articles, via social networks, email, messaging, etc.
No ads
Cons
Flipboard does not always show the full text for some articles (e.g. for Mashable it will show "continue reading…" after a short paragraph)
Discussion
While some people may prefer looking for articles on their own, I personally like Flipboard because it takes the hassle out of finding articles. The app provides me with many articles that I simply flip through – if I want to read the article, I tap on it. If I don't, I flip away.
Flipboard can also be quite confusing. Trying to find out whether you can customise the text (font size and background colour) will take some time – and the answer is yes, by the way. You can find the settings part at a very tiny settings icon at the bottom right-hand corner, but at the moment you can only change the font size.
Otherwise, Flipboard is a great app for anyone who likes to read articles in a nice, clean interface. There are practically no other distractions on the screen to distract you from the text and the font, color and font size are fitting enough to attract your attention. Pictures can be zoomed into and you can add articles to Pocket. If the article's link came from Facebook, you have a choice to 'like' it. If it came from Twitter, you can Favourite it or Retweet it so your friends will know of the article.
The app is also completely ad-free – the only ads you will see in the application is when a website that hosts the article you would like to read decides to place ads in the article. However, you can just flip away or scroll away – it is definitely not placed in a strategic way that you can 'accidentally' click on it. The app itself is ad-free, sleek, easy and nice. It takes just about the usual loading time for any other apps and does not take up much space (only a mere ten megabytes).
CONCLUSION AND DOWNLOAD LINK
Flipboard is a perfect app for anyone who likes reading and keeping up with the latest news. It is a completely free app, so there is definitely no harm in giving it a little try.
Price: Free
Version reviewed: 1.9.8
Requires iPhone, iPod touch, and iPad – iOS 4.2 or later.
Download size: 10.0 MB
Related Posts