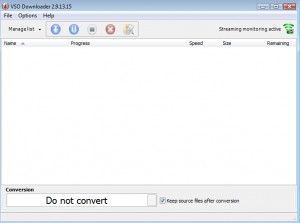 There are tons of programs out there that can download audio and video off the internet. However, one of the best ones I have used in a long time is VSO Downloader. This program allows you to download audio and video streaming from thousands of different sites. What makes it even easier is the fact that streaming content is actually detected automatically. You don't have to do a thing! If you're streaming in HD, then VSO Downloader will record this HD resolution automatically.
WHAT IS IT AND WHAT DOES IT DO
Main Functionality
VSO Downloader is a simple program that can be used to download audio or video streams right off the internet. It is able to detect streams automatically and can even convert the streams you download into other formats. Best of all, VSO Downloader works independent of your web browser. This means, no matter which browser you are using, VSO Downloader will work.
Pros
Download audio and video streams off the internet
Automatically detects streams, no need to copy and paste URLs
Can convert downloaded video and audio into various formats: MP3, AVI, Xvid, H264, and Mpeg4
Works independently from your browser, which means you can use this program no matter what browser you are using
Ad blocker integrated into the program so you only download the content you want
All audio and video formats are supported: FLV, WMV, SWF, MP4, ASF, etc.
Cons
You have to remember to switch off automatically download when surfing the net, or it will start downloading every video and audio you come across
Free version adds watermark if you use the video convert feature
Discussion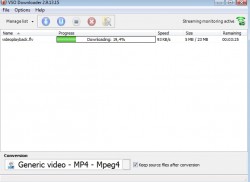 VSO Downloader is a simple, easy and fun program to use. It works a lot better than other video and audio downloaders I have tried. It has a lot of features built right in and is relativity easy on your computer resources.
Let's start off by covering some of the features you get when you download VSO Downloader. First, the program can download audio and video streams right off the internet. There is no reason to point these files out to the program, because it will automatically detect them. On top of that, the program can convert the files you download into popular formats to work on other devices. These formats include MP3, AVI, H264, Xvid and Mpeg4.
The program does not work with your browser but rather independently from it. That means you can use this program no matter what browser you are using. While testing, it had no problems detecting videos from popular sites like Google Videos, DailyMotion, YouTube and so on.
VSO Downloader also automatically detects if you are streaming a video in HD. Thus, you can change your download to HD by simply selecting HD resolution on the web page you are visiting (if there is such an option).
There really were no problems I suffered while messing around with the program. However, I will say that you have to remember to turn off the auto detect streaming monitor when you are simply surfing the net or watching videos. If you don't, the program will continue to download all of the music and videos you are listening to. Could be helpful, but it is also a quick way to fill your computer up with videos you may not even want.
CONCLUSION AND DOWNLOAD LINK
Overall, VSO Downloader is a program that I will use again. Downloading media off the internet has never been so easy, because it is automatically done for you. Since the program has a built-in converter, it is one of the better downloading programs I have used. Just remember to switch off the auto detect steaming monitor when you're just surfing the net and watching videos you don't want to download.
Price: Free
Version reviewed: 2.9.13.13
Supported OS: Windows XP / Vista / 7 / 8
Download size: 12MB
VirusTotal malware scan results: 0/44
Is it portable? No
Related Posts