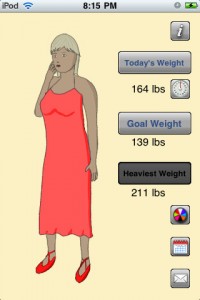 Virtual Weight Loss Model Lite is an iPhone app developed by Pacific Spirit Media. This weight loss and dieting app basically has one use: showing users a model of what their body would look like if it was heavier or lighter.
What is it and what does it do
Main Functionality
Virtual Weight Loss Model Lite lets users input their current height and weight, as well as their goal weight. Users can then see a virtual model of their body as it appears now, and how it will look in the future once a person is at their ideal weight. This provides a motivational tool for weight loss, as well as some mild entertainment if you just want to see what you might look like at an extremely high or low weight.
Pros
Simple to use: just enter four bits of info, and you're good to go!
Does both US and metric measurements for height and weight
You can customize the hair and skin color of your avatar
Cons
Model is low quality, 2D, and has limited options for customization
Models are female only, and the body is always covered by a long dress
Height is limited to 3'1″, weight is limited to 399 pounds
Avatars seem imprecisely calibrated: a change of weight from 260-399 for experimentation purposes showed no change in the avatar. No matter what height you choose, your avatar remains the same height on the screen
App hasn't seen an update since 2009, and isn't likely to see one in the future
Discussion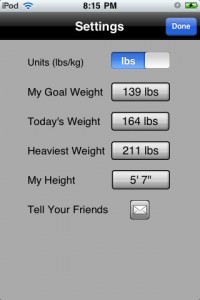 Staying motivated is a bit part of a successful weight loss program, so I totally get why building a virtual model of yourself at both your current and ideal weight is a useful thing to do. But this app is so far from useful, it's astonishing.
Let's start with the fact that it only models female bodies: right off the bat, that's a pretty bad move. And it doesn't even model those bodies very well. The height doesn't change visibly, though the weight does. While there is a "pro" version of this app out there, the graphics are really only just slightly better than in this free app.
And if the point of this app is to give women something to aspire to, why cover most of the body in a big dress? Wny not put the avatars in a bikini, or at least something more form-fitting?
The whole app just seems a bit slapdash. It's too bad, because  the concept behind the app is a solid one. But the execution here just doesn't measure up.
Conclusion and download link
Virtual Weight Loss Model Lite is free, but I still can't recommend it to anyone. It's not worth your time, or the storage space on your phone. If you need a virtual model of your body for weight loss purposes, find another app that does it in high-quality, 3D. This app is a total disappointment.
Price: Free
Version reviewed: 1.0.1
Requires iPhone/iPad/iPod Touch, iOS 2.2.1 or later
Download size:0.9 MB
Virtual Weight Loss Model Lite on Apple App Store
Related Posts