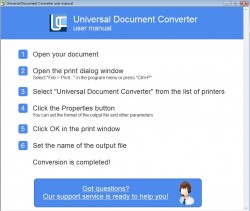 Universal Document Converter is a great program for people who are looking to convert their documents to other formats easily. The program itself is easy to use and coverts things very quickly. Unfortunately, the "free" version is essentially a demo — it does not have any limitations or restrictions but it does place a watermark on converted pages.
WHAT IS IT AND WHAT DOES IT DO
Main Functionality
Universal Document Converter is a program that allows you to quickly convert files to other formats. It goes about this in kind of an odd way by making your computer think that the program is a "printer". That being said, it does the job perfectly, and I was able to quickly convert a number of different files to other formats.
Pros
Allows you to convert files into .JPEG, .PNG, .DCX, .GIF, .BMP, .PDF and .TIFF
Quickly converts files, even if they are multiple pages long
Because it sets itself up as a virtual printer, it is possible to convert just about any kind of document — anything that can be printed can be converted
Converted file comes out as a high quality copy
Very low system resource consumption
Compatible with Microsoft Windows Terminal Services and Citrix. This means that it is possible to remotely use this program from other computers.
Cons
The "free" version is essentially only a demo; a watermark will be display on each converted page. If you decide you like it, the program will cost you $69 to buy the full version. Pretty steep price for a file converter.
Discussion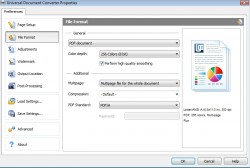 There are a lot of things to love about Universal Document Converter. However, before we get into all of the great things, let me just start off by saying that this program is a demo version. There are no limitations or restrictions to its use, so you can get a great feel for how the program runs. However, there will be a watermark displayed on each converted file. This is unfortunate because it is truly a great program. Thus I felt that I would share it with you anyway.
When you install Universal Document Converter, you will notice that it installs on your computer as a virtual printer. Although this may seem odd at first, it actually works in your favor, because converting documents becomes easy. In fact, we will walk through the steps right now.
First, open up the file that you want to convert. Due to the fact that the Universal Document Converter is set up as a virtual printer, you can convert any document that has the ability to be printed. Once you open up whichever file you are going to convert, go to the "Print" option under file. Once you do, select Universal Document Converter as your printer.
After selecting it, click on the properties option. It is here that you will be able to make a number of changes to your document. For example, you can choose between eight different file formats that you would like to cover your document to (.JPEG, .PNG, .DCX, .GIF, .BMP, .PDF and .TIFF). In the demo version, you can work with all of the options available to you. The only one that will not be active is the "remove watermark", for obvious reasons.
CONCLUSION AND DOWNLOAD LINK
The biggest draw to Universal Document Converter is the fact that it runs as a virtual printer, which gives you the ability to convert anything that can be printed. That being said, since this is a demo version (unless you want to live with a watermark), you are only trying the program out. It is nice that they do not limit you in the demo, but the watermark is pretty annoying. The program works great, but at $69 it may be too steep of a price for some people to consider. In fact, I wouldn't recommend shelling out $69 for this — it doesn't do anything groundbreakingly unique to deserve that high of a price tag.
Price: Free to try (no restrictions or limitations but does include a watermark), $69 to buy
Version reviewed: 5.5
Supported OS: Windows 2000 / XP / 2003 / Vista / Server 2008 / 7 / 8
Download size: 20MB
VirusTotal malware scan results: 0/42
Is it portable? No
Universal Document Converter download page
Related Posts