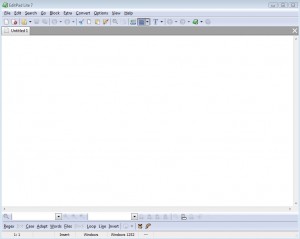 If you're looking for a good alternative to Windows Notepad, then you will be happy you stumbled across this program. EditPad Lite is a great freeware text editor that has been developed as a replacement for Notepad. It is able to do everything that Notepad can do with some extra features you may find extremely useful.
WHAT IS IT AND WHAT DOES IT DO
Main Functionality
EditPad Lite is a freeware text editor that is designed to completely replace your Notepad program. It offers everything that Notepad does plus a lot more. Whether you're looking for a program that has larger file support or one that can even offer you a tabbed interface, EditPad Lite has you covered.
Note: If you like, you can think of this as a Wordpad replacement instead of a Notepad replacement.
Pros
Tabbed interface that allows you to work with multiple files easily
Offers larger file and line support than Notepad
Allows for full Unicode support. This does include complex scripts and right-to-left scripts
Search and replace tool that works extremely well
Offers unlimited undo and redo for all opened files (even after saving)
Just like Word, it offers automatic backup and working copies to help prevent data loss in the event of a crash
Allows for direct editing of text files using Windows, UNIX and Mac text encoding
The installer allows you to choose between multiple options, including a standard and advanced installation and a portable version that can be saved onto a USB device
Covert option allows you to convert files between: ANAI, ASCII, Unicode, UNIX and Mac
Able to apply simple ROT-13 encoding and decoding to text as well
Cons
If you don't need an advanced replacement for Notepad, you are probably better off going with an actual word processing program
Discussion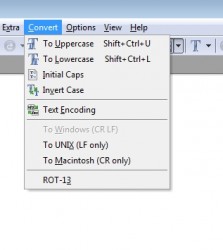 EditPad Lite is a program that is made to replace your Notepad. For anyone who does not use Notepad, you might as well look somewhere else, because this program is not going to offer you anything that you're not getting from a word processing program. For others that "prefer" Notepad, this program has a lot to offer.
First, let's get into some of the extra features that EditPad Lite offers. Unlike Notepad, it offers a tabbed interface. This means, you can actually work on multiple documents at the same time easily. On top of that, Editpad Lite supports larger file and line support than Notepad as well.
One of the coolest features offered by Editpad Lite is the "Convert" tool located towards the top of the program. This tool can help with lowercase, uppercase, initial caps, invert case, and even text encoding. However, you will also notice that it can convert files between ANAI, ASCII and Unicode. It is also able to convert to UNIX and Mac formats (in some cases).
As you can see, Editpad Lite has a lot to offer that Notepad simply cannot. Typically, I would not be interested in a program that offers more than Notepad, because it is not something I use often. However, this has so much to offer and comes with the magical price tag of "free" that it is hard to overlook.
CONCLUSION AND DOWNLOAD LINK
I highly recommend Editpad Lite for anyone who is looking to replace Notepad. It has too many great features not to be considered. Best of all, it is completely free! Unless you simply know that you would never use such a program, you should at least have this one on your computer. It is pretty small and not resource hungry.
Price: Free
Version reviewed: 7.2.1
Supported OS: Windows 2000 / XP / Vista / 7
Download size: 9MB
VirusTotal malware scan results: 0/43
Is it portable? Yes (portable version offered during installation)
Related Posts