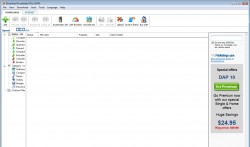 At first look, Download Accelerator Plus seems like your everyday, run-of-the-mill download accelerator. However, after using it for a while, I can say that it does go above and beyond many of the other accelerators I have used in the past. Not only because it works, but because some of the add-ons you can download for the program are extremely helpful.
WHAT IS IT AND WHAT DOES IT DO
Main Functionality
Download Accelerator Plus is a free program that claims to boost your download speed. It does this in a number of ways, but mostly it achieves this by breaking your download into smaller pieces and downloading them from multiple sites at once. Another method it uses is searching for faster mirrors that you can use.
Pros
Program comes with two add-ons pre-installed. You can add customizable add-ons to create a unique experience. The free version can use the following add-ons: Video to MP3, Download History, Beta Link Checker, Beta DAPster Manager, Beta Video Preview, and Download Security.
Can help you bypass waiting screens on sites like RapidShare
Download speeds were noticeably faster (on files that have more than one source)
Supports pausing/resuming downloads
Cons
Free version cannot use the following add-ons: ZIP Preview, File Shredder, Trace Cleaner, and Private Downloads
Tries to get you to install SPEEDbit Search during installation. Uncheck to avoid installing.
Files that are rare or don't have many sources are not going to download any faster than normal
A few annoying pop-ups were noticed while using this program
Discussion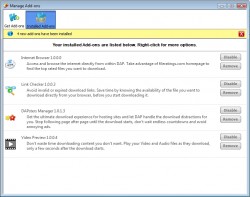 For some, Download Accelerator Plus is going to be a waste of time. If you do not download from file sharing sites (not torrent websites, per se), I don't see this program being of any use to you. However, there are a number of things to like about this program for people who do use these kinds of sites.
The best feature about Download Accelerator Plus is the add-ons. Now, typically, I hate add-ons. However, here they are done tastefully and for the right reason. When you download the program, all you get is the ability to "accelerate" your downloads (more on that in a minute). However, if you want the program to do more than this, you can download add-ons. What I like about this is the fact that they do not force all of these add-ons onto you. So, if there is a feature you're simply never going to use, don't download it.
The extras you can get for this program include: Video to MP3, Download History, Beta Link Checker, Beta DAPster Manager, Beta Video Preview, and Download Security. Some of these add-ons seem better to me than others. For example, the Video to MP3 is nice, but I already have programs that can do that, so I wouldn't download that. However, the Video Preview was very helpful. This allows you to see a short preview of the video you are about to download. This way, you can make sure that it is the video you want without having to waste your time downloading a large file.
Another add-on that I liked was the Link Checker. This is a feature that actually checks to make sure that all of the links you are about to download from are active before you start. There is nothing worse than downloading something from a ton of links to find out that the 14th one doesn't work! Instead of having to check them all yourself, this program does it for you.
That said, enough about the add-ons. How exactly does Download Accelerator Plus work — does it really speed up downloads? The answer to that question, my friends, is a qualified yes. You see, as I mentioned in the 'Main Functionality' section, Download Accelerator Plus speeds up downloads in two ways.
The first way is it mimics peer-to-peer technology and downloads your file in small pieces from multiple sources. If the file you are downloading has many sources available, the download will be faster with Download Accelerator Plus than if you downloaded it normally. If the file you are downloading doesn't have many sources, then Download Accelerator Plus won't download it any faster than a normal download.
The second way is it searches for faster mirror sites. Often the same file can be had from different download sources, and Download Accelerator Plus looks for the fastest source for you to download from. Again, if a file only one one source then Download Accelerator Plus won't be able to do anything.
CONCLUSION AND DOWNLOAD LINK
Overall, Download Accelerator Plusdoes its main job of "accelerating downloads" very well. However, the thing I liked about the program the most was being able to customize my experience by only downloading the things I wanted. The program is not perfect, and I am sure that are other ones out there. However, for those of you who are looking for a new program to hasten your downloads, Download Accelerator Plus may be worth a look.
Price: Free
Version reviewed: 10.0.4.9
Supported OS: Windows NT / 98 / Me / 2000 / XP / 2003 / Vista / 2008 / 7 / 8
Download size: 10.7MB
VirusTotal malware scan results: 1/46
Is it portable? No
Download Accelerator Plus homepage
Related Posts