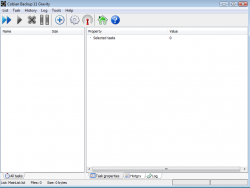 If you're looking for a backup program that has all of the "bells and whistles" of a paid program, but you don't want to pay a dime, then you may want to consider Cobian Backup. This is a free program that has a shocking amount of features. Best of all, the program is very reliable.
WHAT IS IT AND WHAT DOES IT DO
Main Functionality
Cobian Backup is a free backup program for Windows. It can be used to create backups of your files in case you ever need to restore things for whatever reason. The best thing about this program is the fact that it offers as many features as a paid backup program would offer, but Cobian Backup gives them away for free.
Take note Cobian Backup is a file-level backup tool, not system-level.
Pros
Very straightforward interface thanks to large buttons that are very intuitive
Tons of configuration options make sure you only backup what you want
Can schedule backups or preform random backups with just the click of a button
Offers file compression and encryption options
Allows you to change the program's appearance if you wish to do so
Great online support offered by its forum (tutorials and help files also available)
Cons
Backup took a bit longer than I would like
Discussion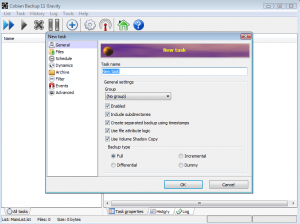 I have tried a lot of free backup programs in my time. Most of the free ones are nothing to write home about. They offer the bare minimum. If you want anything with substance, you have to spend your hard-earned cash. That is why I was so shocked when I tried Cobian Backup. Not only does it offer all the basic features you have come to expect from a backup program, but it also offers features that some paid programs don't even offer.
Creating a new backup with Cobian Backup is about as easy as it gets. You simply create a new name, and then decide what files/folders you want to include in this backup. From there, you can even create a schedule to help remind you to back up your files. All of this is pretty basic, but if that is all you are looking for, you can bet that Cobian Backup can handle it.
Of course, the fact that it handles these basic commands is not what makes this program so great. It is the other features it offers that makes it better than most other free programs. For example, Cobian Backup also offers file compression and encryption options. This is a feature that I have not seen included in many free backup programs. Heck, this is a feature I have seen missing from some paid backup programs! The encryption (password protection) service offered is great if you are going to be storing your backups on a USB device, which can be easily misplaced.
The biggest problem I had with Cobian Backup is the long wait time. For whatever reason, this program seems to take a really long time to back up your files. This can be annoying, but may be worth the wait if you really want these extra features. However, the long wait time is what keeps this program from being a must-have.
CONCLUSION AND DOWNLOAD LINK
Overall, I highly recommend Cobian Backup to people who are looking for a great free backup program. That being said, if you are not good with long wait times, I would steer clear from this one. If you can get over that, you may find a great replacement for your current backup program in Cobian Backup.
Price: Free
Version reviewed: 11.2
Supported OS: Windows XP / 2003 / Vista / 2008 / 7
Download size: 18.8MB
VirusTotal malware scan results: 0/35
Is it portable? No
Related Posts