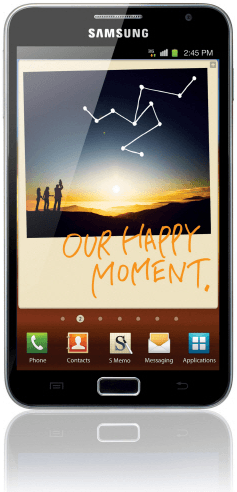 "Hey, that's not a Samsung Galaxy S III, that's a Galaxy Note!" might be your initial reaction when you see the potentially mismatched headline and image, but, trust me, this was done on purpose. The 'Premium Suite' update that Galaxy S III users are starting to receive could very easily have been called the 'Galaxy Note Update'.
You see a quick glance at the new features list via this update will tell you that many of the new functions coming to the S III are borrowed straight from its larger sibling, the Note II. The ability to split the screen and use two apps simultaneously is one of them, as is the customizable notifications panel. The full list of major changes is as follows:
Contextual Awareness

(1) Page Buddy: Your phone will smartly predict what you intend to do according to your actions. For example, when you plug in your earphones, the device automatically opens up a page with the music player.

(2) Contextual Menu:  When you list up apps, you can now choose to see the most frequently used ones first. Especially convenient when you're looking through apps  to find files to attach.

(3) Contextual Tag:  When you take a picture on the phone, you can tag the weather, date, and place immediately.

Enhanced Features

(1) Multi Window: You can open two different apps at the same time into two different windows on the mobile screen.

(2) Auto Share Shot Pairing using NFC: By setting the camera to 'Auto Share Shot' mode, you can quickly share your photos and videos by simply tapping their GALAXY S III with other NFC and S-Beam enabled devices

(3) Reader Mode: You can easily control the size of the text on your browser! Also, you can just click the webpage to share it!

(4) Facebook Lock Ticker: The easiest way to see your Facebook News Feeds – set your phone to show it on your lock screen.
One feature that caught my attention is the 'Page Buddy' which is explained as your phone smartly predicting what you intend to do according to your actions. The example that is given is the phone opening up a page with a music player the moment you plug in earphones. While that sounds cool at first, it could potentially be irritating when it does it when you don't want it to do it. What if I wanna plug in my earphones but I'm currently composing a message or reading a webpage? Being whisked away to another screen doesn't sound like fun. I'm hoping this feature isn't as obtrusive as it sounds, or at least has the option to be customized or switched off.
However, although some features may sound familiar or questionable, it's an upgrade nonetheless. I'm sure S III users will especially enjoy multi-window support.
Take note it isn't entirely clear which S III variants will get the update. My guess is eventually they all will, but the international version may get it first.
[via Samsung]
Related Posts