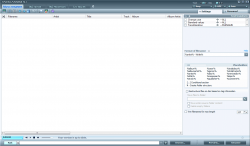 TagScanner Portable is an interesting program that allows you to organize and manage your collection of audio files (podcasts, music, lectures, speeches, etc.). The program is able to quickly edit tags, rename your files, and even rename your files based on tag information. The best feature may be the fact that you can get album information right online via databases like Amazon and Freedb.
WHAT IS IT AND WHAT DOES IT DO
Main Functionality
TagScanner Portable is a program that will help you better manage and organize your audio collection (podcasts, musics, lectures, speeches, etc.). The program is extremely helpful, but can be kind of confusing. Either way, if you're looking for a way to rename files based on tag information, edit tags already in place or download new information about albums from the internet, TagScanner Portable can help you out.
Pros
Import information about songs and albums from online databases like Amazon and Freedb
Supports the renaming and editing of the following audio files: MP3, OGG, FLAC, WMA, MPEG-4, Opus, Musepack, Monkey's Audio, AAC, OptimFROG, SPEEX, WavPack, TrueAudio
Offers support for ID3 version 1.0/1.1/2.2/2.3/2.4
Can help you resize your cover art for portable devices
Export information from this program to HTML, CSV and XML
Can rename files based on tag information you have given them
Edit tags for multiple files at once
Supports drag and drop
Cons
Program's layout is confusing. Not very user-friendly; other programs out there offer the same features but are easier to understand.
Discussion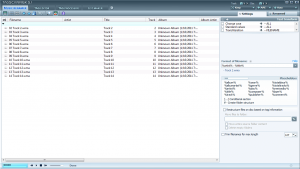 At first look, TagScanner Portable comes across looking ancient. I'm not trying to be mean, but there is nothing to draw you into this program. The program's layout looks very basic, but at the same time confusing. Once you start it up, it will take you a while to feel like you have the hang of everything this program has to offer. However, if you stick with it, this program does have a number of great features that some people are bound to fall in love with.
First of all, it does play audio files. Nothing really shocking here, but it is nice to see that this audio manager can at least play the files you are trying to organize. It supports the editing and renaming of the following file types: MP3, OGG, FLAC, WMA, MPEG-4, Opus, Musepack, Monkey's Audio, AAC, OptimFROG, SPEEX, WavPack, TrueAudio.
To me, the best feature that the program offered was the ability to download information about your songs and albums right off the internet, and put said information into tags. This can make filling out information about all of your audio files go so much quicker. The problem is that this is a feature included with other programs, so there's still nothing that screams you need to HAVE this program.
Besides that, all of the basics are here. You can edit tag information and rename all of your audio files. These would be features that seemed more helpful if using the program was not such a pain because of the layout. At the very least, it does support drag and drop. I highly recommend you taking the program up on that offer.
CONCLUSION AND DOWNLOAD LINK
TagScanner Portable is not a bad program. In fact, once you get it running it is pretty handy. However, the learning curve is too high for what it has to offer. If you are looking for an audio manager, I would skip this one and look elsewhere. Once again, this just proves how the right layout can make all of the difference in the world.
Price: Free
Version reviewed: 5.1.625
Supported OS: Windows XP / Vista / 7
Download size: 2.16MB
VirusTotal malware scan results: 0/42
Is it portable? Yes (portable version available on the site)
Related Posts