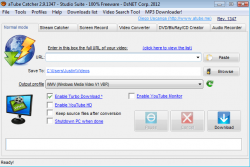 Downloading videos off the internet is something that a lot of people want to do. Maybe they want to watch the video later or they liked it so much that they want to save it to their computer. Regardless of the reason, developers have made tons of video downloaders for people to choose from. On this list of never-ending video downloaders is aTube Catcher. Now the question is: How does it stack up?
WHAT IS IT AND WHAT DOES IT DO
Main Functionality
aTube Catcher is a video downloader that does more than just download videos. Not only can it download from many different sites like YouTube, Google, Yahoo, Dailymotion, Spike, etc., but it also has a number of other features built in. This includes, but is not limited to, ripping DVDs, creating DVDs and Blu-Rays, screen recording, making GIFs, and so on. This is a tool that tries to do it all.
Pros
Output videos in many formats including (but not limited to): WMA, MOV, MKV, AVI, FLV, etc.
Includes a DVD / Blu-Ray / CD Creator
Other features include: Screen Record, Audio Recorder, Video and Audio Crop Tools, Queue Manager, and a DVD Ripper
Can create Audio CDs, Ringtones, MP3, and even animated GIFs
Able to erase re-writeable disks
Can convert and merge videos
Able to capture video streams
Cons
Offers to download Ask Toolbar, Price Finder, and set your homepage to Ask.com during installation
Most of the time, the downloaded video failed to play on supported device. This problem continued even when turning converting off
Discussion
To put it simply, I think that aTube Catcher is a program that tries to do way too much. Instead of focusing on making it easier to download videos off the internet, it tries to extend itself into the role of many other programs. In the end, you get a program that doesn't seem to do one thing perfectly, but a number of things poorly.
I wanted to like aTube Catcher because of all it had to offer. After all, when you are reading through all of its features, you kind of feel like this could replace a number of your other programs. I mean, not only does it download videos, but it creates DVDs and Blu-Rays, creates audio CDs, rips DVDs, can capture live video streams, crop videos, and even convert videos you download. This is a pretty impressive list for a free program.
Unfortunately, that is where the good news ends. I tried out a number of these features and none of them impressed me enough to continue using the program. However, I didn't really care if all that other crap worked, all I wanted to know is how it did at its main job: downloading videos. Here, for me at least, it failed horribly. I must have tried downloading 10 plus video clips from the internet. Out of those 10…only 1 worked! I tried multiple things, including converting to different formats, only downloading audio, and even turning converting off altogether. I was always left with either a video that was 0KB big, or one that simply would not play on any video player I have.
I am sure that there is a way around this problem, but I did not want to waste my time looking for the answer. Not when there are so many other good video downloaders out there.
CONCLUSION AND DOWNLOAD LINK
aTube Catcher is a program that tries to do too much and fails on every account. It has an impressive list of features, but it does none of these things well enough to replace other programs out there you can get for free. Once again we find that sometimes it is better for a program to focus on one task instead of trying to focus on "everything".
Price: Free
Version reviewed: 2.9
Supported OS: Windows 95 / 98 / Me / 2000 / XP / 2003 / Vista / 7
Download size: 11.14MB
VirusTotal malware scan results: 2/45
Is it portable? No
Related Posts