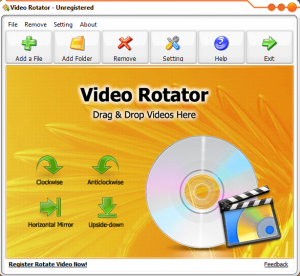 There are a lot of programs out there that do very specific things. Video Rotator just so happens to be one of those programs. The main propose of this program is to flip and rotate your videos. Which, to me at least, does not seem to make it worth my hard-earned money.
WHAT IS IT AND WHAT DOES IT DO
Main Functionality
Video Rotator is a program that can flip and rotate your videos. It is also able to convert videos into other formats: MPG, MOV, FLV, AVI, and MP4.
Pros
Rotate your videos not only 90 degrees, but also do a video horizontal mirror
Ability to flip your videos upside-down
Can convert videos to more popular formats — MP4, AVI, FLV, MOV, and MPG
Option to only convert movies without flipping them
Cons
Video converting feature is below par
The main propose of this program (the ability to flip and rotate videos) is not worth the $19.95 price tag
Discussion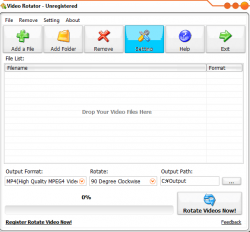 I am one who tries to look for the good in a program. However, there are times when you come across programs that make you think, "what the….?" For me, that program was Video Rotator. The main propose of this program is to flip and rotate your videos…you know…in case you ever wanted to watch your favorite videos upside down.
Truly, I am sure there are some good reasons out there why you would need to rotate or flip your videos. Maybe you recovered something on your phone, and when you moved it over to your computer you found you needed it rotated. I get that, but what I don't get is why this program is $19.95. It seems more like this should be an ad-supported program at the very least.
The good news, and possibly the most useful feature, is the fact that the program can convert videos. The developers knew this was the most useful feature, and that is why they gave you the option to convert videos without flipping or rotating them first. In short, you could use this program as a little video converter. The only problem is, who would! There are so many free converters out there, many of which convert more formats than what this one does…and did I mention they were free!
In total, the program can read 15 different movie files: AVI, MPG, FLV, MP4, WMV, MOV, 3GP, etc. Of course, it can only convert to 5 popular movie formats. If your video does not fit into one of the 15 files it supports, you are simply out of luck. Need to convert to a different movie format, say like WMV? Well Video Rotator can't help you there either.
CONCLUSION AND DOWNLOAD LINK
In short, Video Rotator is a program that is too limited for its own good. Instead of offering one extremely helpful service, it offers one that's questionable at best, and they try to make up for it by offering another service (video converting), which is done poorly. If you really, really need to flip or rotate a video, this program can do it for you no problem… but at $19.95, it seems like you can find another program that can do it for you free. For example, Free Studio contains a video flip and rotate module, and Avidemux is a freeware video editor; freeware video converters can be found here. Freemake Video Converter is also another option — it is a freeware video converter that allows users to flip or rotate videos.
Price: $19.95
Version reviewed:
Supported OS: Windows XP / 2000 / 2003 / Vista / 7 / 8
Download size: 7.15MB
VirusTotal malware scan results: 1/45
Is it portable? No
Related Posts