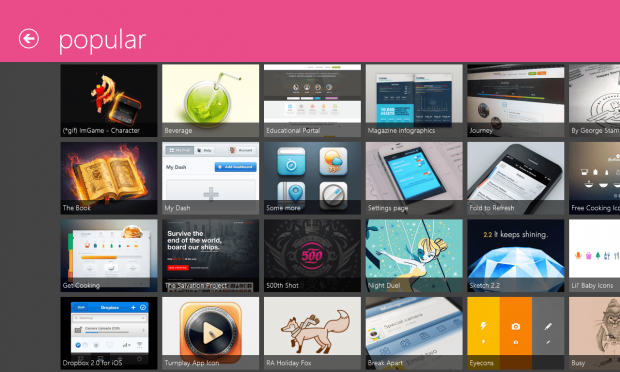 Metrrro is the first and only Dribbble client on the Windows Store. For those who don't know, Dribbble is an online service that lets designers share "shots" of their works. Essentially, it's a snapshot of their work. Sometimes the work is finished, and other times, it's still a work in progress. Either way. it's a great way to get inspiration or just view some awesome work. Now with Metrrro, you can view shots on your Windows device. People that will like this are those who have Windows RT devices or people who want a native client for Dribbble.
What is it and what does it do
Main Functionality
Metrrro is designed solely for the purpose of viewing Dribbble shots and people's profiles. Really, that's it. You can browse shots in different categories, view comments from other people, view their profiles and you can click links to take you to the actual website.
Pros
Very easy to navigate.
Nicely sized previews.
Good use of colors for menu.
Cons
No search.
Can't log in to your Dribbble account.
No other filters other than Debuts, Popular, and Everyone.
Discussion
To start off with, Metrrro isn't a fancy app. It doesn't try to do anything too extraordinary, and that's not a horrible thing, depending on the type of person you are. Once you open the app, you're immediately greeted with the main page, which showcases three categories: Popular, Debuts (which are shots from new people), and Everyone. There are fifteen shots showed for each category, before you have to dig deeper.
With each category, you can view a seemingly infinite number of shots. The horizontal scrolling works well, although I wish there would be an automatic loading of more shots. When you click on one, you're brought to the shot's main page. There, you are able to view the comments for it, as well as how many views it has. However, you cannot use any of the social aspects of Dribbble, since you cannot log into your account.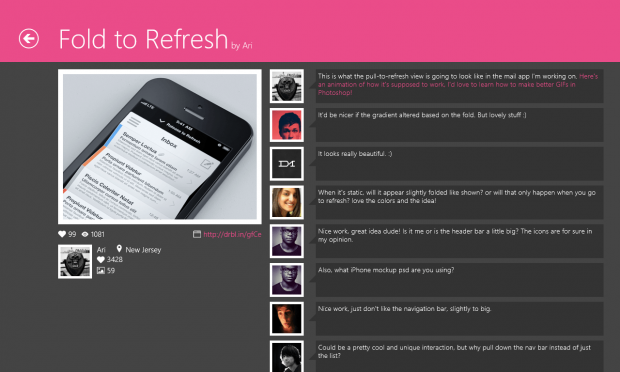 Apart from the categories, you can also look at people's profiles. To view someone's profile though, you have to either view a shot by them, or a comment. Then, you can click on their name and be brought to their profile, which shows their shots.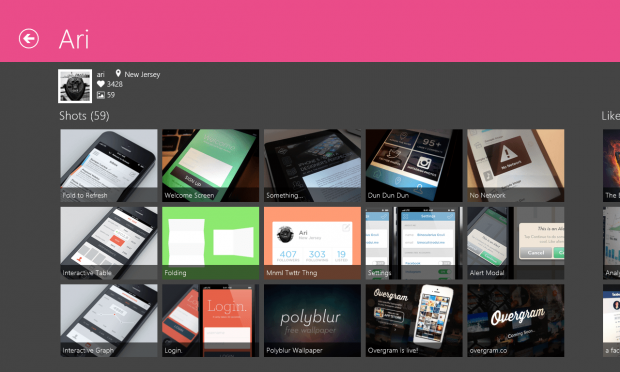 Unfortunately, the app has some major omissions. First, a lack of a proper search feature definitely makes finding specific content hard to do. It's a basic feature that has no reason to not be there. Next, without filters, the app remains largely useless if you want to find specific things. When you can only look through Debuts, Popular, and Everyone, it's hard to find something precise. Lastly, not being able to log in to your Dribbble account definitely isn't good for any user with one. You don't need a Dribbble account to use the app, but if you want to comment, you would best be looking elsewhere.
Conclusion and download link
To sum it up, Metrrro is a decent Dribbble client. It's off to an alright start, but really needs an update with added features to be usable. At the moment, I'd only recommend it to people who want to casually view Dribbble and really want to use a Windows 8 app. For everyone else, the website will probably be your best bet. The app looks good, but without basic features such as search and logging in to your Dribbble account, I cannot recommend it. Since every Windows 8 device has internet capabilities, the website will probably be your best bet.
Price: Free
Version reviewed: Version unknown
Supported OS: Windows 8, Windows RT
Supported architectures: x86, x64, ARM
Related Posts