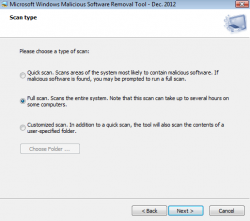 Scanning your computer for malicious software is always a good idea. More than likely, if you are like me, you have more than one program that you use to scan your computer. Well I have another one for you: Microsoft Windows Malicious Software Removal Tool. This is a portable program that you can use to detect a large range of known threats.
WHAT IS IT AND WHAT DOES IT DO
Main Functionality
Microsoft Windows Malicious Software Removal Tool is a portable program that is used to check your computer for known threats.
Take note this program is an after-the-fact cleaning tool — it will not prevent your computer from being infected but will rather try to clean your computer after an infection.
Pros
3 scanning options: Quick, Full and custom scan
Doesn't seem to bog down your computer while search is in progress
Detects a large range of known threats, including (but not limited to): MyDoom, Sasser and Blaster
Available in both 32-bit and 64-bit versions. The program won't let you run the wrong version so no risk of getting it wrong
Quick scan usually takes less than a minute
No installation required
Cons
Full scan does a very good job but takes several hours (usually) to complete
Doesn't help you protect your computer from infection by viruses/malware — removes the ones you already have
Discussion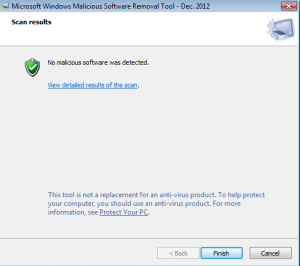 There are a lot of things that I love about Microsoft Windows Malicious Software Removal Tool…the name is not one of them. That aside, the program is simple and gets the job done. Microsoft did not try to make this program flashy. I mean they obviously didn't spend much time thinking of a clever name, but that is actually something I like about the program. I got it to remove viruses. It doesn't have to be named something like "Super Mega Eraser 5000 Plus". All it needs to do is remove the stuff I don't want from my computer, and this removal tool from Microsoft does just that.
Using the tool is about as simple as it comes. After downloading the program simply click on it to start. Since there is no installation needed it will get right into things. Now just choose the type of scan you want to do (quick, full or custom), and click start. That's it!
Now, if you did a quick scan, you won't be waiting long, as the scan lives up to its name…quick! It took less than a minute to run a quick scan of my computer. That being said, this search simply looks in the most common places viruses can be found. If you want to be sure there is nothing on your computer, run a full scan. In fact, the program even recommends you run a full scan after doing a quick scan.
Here is where the trouble starts. The full scan takes a LONG time. For me, that was several hours. Although this is kind of a drawback, it did give me the impression that it was actually checking every area of my computer, which is reassuring. However, a scan that takes several hours to complete is always a little discouraging. The good news is that the program doesn't bog down your computer, so you can continue to do other things while it is running.
CONCLUSION AND DOWNLOAD LINK
I see no reason why you shouldn't give this program a try. It is small, portable and easy to use. Also, it never hurts to run another virus checker on your computer. So download it and give it a try to see what kind of malicious files Microsoft can turn up on your PC.
Price: Free
Version reviewed: 4.15
Supported OS: Windows XP / 2003 / Vista / 7 / 8
Download size: 15.61MB
VirusTotal malware scan results: 0/41
Is it portable? Yes
Microsoft Windows Malicious Software Removal Tool download page | 64-bit download page
Related Posts