Want to know what you're made of…literally? Visual Anatomy Lite is a handy interactive reference tool that can help students and laypeople alike better understand the way their body works underneath their skin. Whether you're cramming for an exam or just want to increase your own knowledge about anatomy, this app can help.
What is it and what does it do
Main Functionality
Visual Anatomy Lite is a medical app that offers 20 high-resolution images and more than 300 feature points which can be interactively selected and zoomed in upon to see details. The app also includes an anatomy quiz for users to test their knowledge.
Pros
Tap and Pinch Zoom allows users to see great detail on muscles and bone, despite the phone's small screen size
Muscle highlighting tool to visualize the individual muscle
Includes a quiz with 23 multiple choice questions to test your knowledge
Detailed info on bones, muscles, circulatory system and more
Contains info and images from five chapters of the classic text Gray's Anatomy
Cons
Lite version's anatomical information pales in comparison to $1.99 paid version, which won 2011 in Best Medical App from bestappever.com and contains 1247 Gray's anatomy images, along with 90 high-resolution images and 6 quizzes
Ad supported
Far too few quiz questions to adequately test anatomical comprehension
Discussion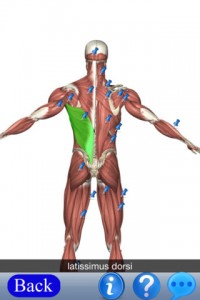 I've always been interested in anatomy and how the body works. Visual Anatomy Lite offers a great way to explore the interconnectedness of muscle groups, organs, and bones. It would be a great tool to get young kids excited about science (and get them ahead of the curve, education-wise.) It would also be a great pocket reference for high school and college kids who need to cram before a test.
Here are the total contents of the app, as laid out on the iTunes page for Visual Anatomy Lite: "Body Region, Muscular System (whole body anterior and posterior, facial muscles), Skeletal System (anterior, posterior and lateral views), Circulation System (Principle Veins and Arteries, Heart), Respiratory System, Digestive System, Urinary System, Nervous System, Female and Male Reproductive Systems, Ear Structure, Nasal Cavity, Eye."
That's a pretty decent array of body parts to learn about. The awesomeness is compounded when you realize you also get a quiz and some select chapters from Gray's Anatomy in the bargain. For a free app, it's a lot of great content…but I can't help wishing there were more quizzes to really test my knowledge. I also wish that it wouldn't ask me to write an app review every time I open the app.
That being said, the app is easy to navigate. It's been smartly organized, and the little blue push pins provide a quick, easy way to review each part of a given organ.
Conclusion and download link
Whether you're a high school or college anatomy student looking to get a head start on your course load, or just a layperson hoping to get a better understanding of your body after an injury or receiving a medical diagnosis, Visual Anatomy Lite is worth playing around with. It's easy to use, and surprisingly engrossing.
Price: Free
Version reviewed: 2.9
Requires iPhone/iPad/iPod Touch, iOS version 4.3
Download size: 35.3 MB

Visual Anatomy Lite on Apple App Store
Related Posts