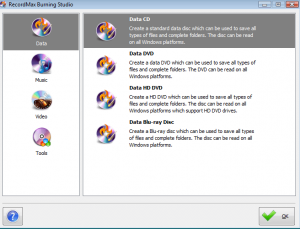 Creating CDs is something that a lot of people use their computers for. Maybe you are trying to back up your pictures, documents and important information on a disc. Perhaps you are trying to make your own music CDs or create a DVD. Regardless of what you are trying to do, RecordMax Burning Studio has the tools to help you get it done.
WHAT IS IT AND WHAT DOES IT DO
Main Functionality
RecordMax Burning Studio is a program that provides you with all of the tools you need to create tons of different discs. Whether you want to make a data disk, a music CD or a DVD, this program can help you out. This is all topped off with a very user-friendly interface that makes figuring out how to use this program a cakewalk.
Pros
Big buttons with clear instructions make this a user-friendly program
Backup all of your important data on a disc
Create your own custom audio CDs that play on just about any music player
Rip music from a CD that you own
Create your own DVDs that play on just about any movie player
Allows you to create and burn your own ISO files
Create bootable discs for your computer
Erase data off rewritable discs
Cons
At the time of this writing, it does not officially support Windows 8
Discussion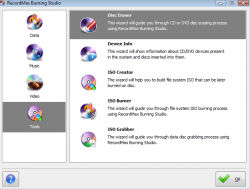 If you do a lot of disc creating, finding a great program to help you with this process is a top priority. There are a lot of free disc creating programs out there, but not all of them work the way they are advertised. This is what sets people on a quest to find a great paid disc creating program. If you are on such a quest, you may want to give RecordMax Burning Studio a go.
The great thing about this program is the fact that you can take it for a test run. Before you drop $29.95 to buy it, you want to make sure that it works. The trial allows you to see all of the features, how the program is set up, and even test it out. This way you can be sure that this is a program you want before you ever spend a penny on it.
The first thing that I noticed about this program is how easy it is to use. If you are new to the disc creating scene, RecordMax Burning Studio is a great starting point. The user interface is extremely friendly thanks to large buttons that are very clearly labeled.
There are a number of things that you can do with this program, so let's get to it. First, you can create backup discs of all of your important information. Do you have pictures, files and other things on your computer you would hate to lose if your computer crashed? Back them up on a disc easily with this program. This can also help save room on your computer if you save all of your pictures to a disc and then delete them off your computer.
RecordMax Burning Studio can also help you with audio CDs. This tool can help you burn WAV, WMA, WMV, MP3, and OGG files right to an audio CD that can then be played in a car or home stereo. The program can also be used to rip music from a CD that you have. Want to listen to your favorite CDs on your computer without having to keep the disc with you at all times? No problem, just use this tool to rip the music off the CD and store it on your computer.
The program can also help you create DVDs, This program can handle video formats like MPG, MPEG, MP4, WMV, MOV, and AVI. It is also worth noting that it can handle HD videos like M2TA, TP, and TRP as well.
RecordMax Burning Studio also has a few other useful tools. For example, it comes with a disc eraser so you can remove information off rewritable discs. It can also be used to create a bootable disc to reboot your computer's operating system.
CONCLUSION AND DOWNLOAD LINK
The great thing about RecordMax Burning Studio is the fact that it just simply works. It is easy to use and just a great program overall. With all of the tools that come with this program, $29.95 is not a bad price to pay. If you have been looking for a great disc creating program, RecordMax Burning Studio gets it right on a lot of levels.
That said, there are plenty freeware/freebie burning programs available for those of you who don't want to shell out money for RecordMax Burning Studio. There is the always popular ImgBurn, the permanent freebie Ashampoo Burning Studio 2012, freeware InfraRecorder, freeware CDBurnerXP, etc.
Price: $29.95
Version reviewed: 6.0.1
Supported OS: Windows XP / Vista / 7
Download size: 2.39MB
VirusTotal malware scan results: 0/46
Is it portable? No
RecordMax Burning Studio homepage
Related Posts