My Pocket Coach is an iPhone app developed by 2Morrow Mobile. It's like having a life coach in your pocket who constantly reminds you what steps you need to take in your life to make important, lasting changes in your lifestyle. The app can help you build new habits (like regular exercise), or break old habits that are weighing you down.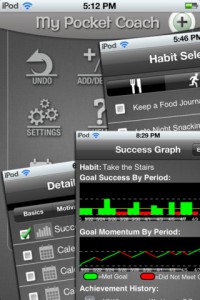 What is it and what does it do
Main Functionality
This Lite version of My Pocket allows users to track 3 habits or goals. You can create a custom habit, or select a common habit most people want to add to their life from the "habit library." The app then tracks your success and momentum towards each goal or habit for a 90 day period.
Pros
Great graphs help you track your progress and stay motivated
Simple to add new goals and their related data (such as frequency and reminders)
Working with a professorial or group? You can enter in your "Coach Code" to unlock unique content from your own personal coach
The "Coach Code" can be used in lieu of paying cash for the in-app upgrade
Different motivational quote is displayed each time you start up the app
Cons
Can only track 3 habits in the free, Lite version (in-app upgrade costs $4.99)
Useful features like Dropbox backup and data export are only available in the premium version of the app
Tutorial could be  a bit more in-depth
App provides almost too many places to input information about your habits
Discussion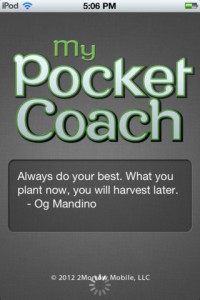 In My Pocket Coach, each habit you are working to establish is assigned either a "make" or "break" status. According to the developers, about 40% of the decisions we make each day are based on habit, so building new, good habits really is important. We all have things we wish we were more responsible about, like flossing or exercising, and this app offers a great way to set those goals and then track your progress.
While it is easy to add each new habit or goal, it can feel a bit overwhelming as you begin to fill in all of the associated fields with each habit. The tutorial is pretty thorough, but it could be a bit longer and a bit more clear in some sections.
It's also kind of a bummer that My Pocket Coach's best features (such as Dropbox sync, exporting your stats, and interface customization) are only available after you pay $4.99 for the in-app upgrade. If you want the most of out this app, you probably do want to pay to upgrade, since you can only track 3 habits in the free version.
However, despite some complaints, My Pocket Coach is a solid app if you only want to track 3 habits. If you have a lot of changes you want to make, however, you'll need to upgrade or keep hunting for a free solution. From what I've seen of similar apps, however, having a limited number of habits available for Lite users is pretty standard.
Conclusion and download link
While it's not perfect, My Pocket Coach is a solid app. Even if you aren't working with a counselor or coach that offers support for this app, it is still worth checking out if you want to make some improvements in your personal or professional life.
Price: Free
Version reviewed: 2.1.0
Requires iPhone/iPad/iPod Touch, iOS version 4.3 or later
Download size: 15.9 MB
My Pocket Coach on Apple App Store
Related Posts