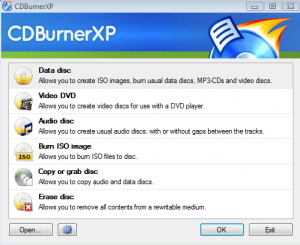 I have used a lot of CD burners in my time. However, it seems like the really good ones make you pay. Don't get me wrong, there are plenty of decent free burners out there, but most seem lacking when it comes to "features." At least this was the mindset I had before using CDBurnerXP. Now, I have a slightly different take on free burners.
WHAT IS IT AND WHAT DOES IT DO
Main Functionality
CDBurnerXP is a free program that allows you to not only burn DVDs and CDs, but burn Blu-Rays and HD-DVDs as well. The program can also be used to create ISOs, erase re-writable disks, create data-CDs, and that is just to start with.
Pros
Burns disks. This includes: CD-R/CD-RW/DVD+R/DVD-R/DVD+RW/DVD-RW/DVD-RAM/BD/HD-DVD, and double layer mediums.
Does offer support for burning data on M-Discs (which offers 1000 years of data preservation)
Can verify data written on discs as soon as burning process is complete
Can copy data from discs (copy-protection is not bypassed)
Can create audio CDs using the following sound files: MP3, WAV, OGG, FLAC, WMA, APE, MPC, WV (WavPack)
Integrated audio player allows you to play tracks before burning
Does offer support for CD-Text
Can burn ISO files to CDs
Allows you to create your own ISO files
Can convert NRG and BIN files to ISO
Works with LightScribe
Offers simple cover printing for data and audio discs
Offers support for most USB, Firewire, IDE, and SCSI drives
Cons
Burn process tends to be a bit on the slow side
Requires .NET Framework 3.5
Discussion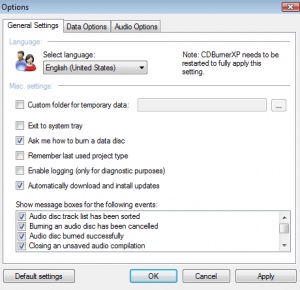 There is so much to say about CDBurnerXP…where do I begin?! I guess the fact that the program has so many great features makes a good starting point. Unlike a lot of other free disc burning programs, CDBurnerXP does not cut any corners. It offers all of the features that you have come to know and love with paid burners, but without the high price tag.
The program of course lets you burn discs. This does include DVDs, Blu-Rays, CDs, HD-DVDs, and more. Of course, the features do not end there. You can also burn ISOs, make your own ISOs, and convert NRGs and BINs to ISOs. These are features not included with all burners.
Not only does it offer a ton of features, but it is also extremely easy to use. As soon as you boot up the program, you will be welcomed by an easy to read table that will get you started making the disc you want to make. In short, if you don't know much about burning discs, this program can help walk you through it.
The only problem I had with the program was the burn speed. CDBurnerXP did seem to burn a bit slower than some of the other burners I have used on my computer. However, the time was not incredibly longer, maybe just a few minutes tops. This was a small price to pay for all of the features CDBurnerXP came with.
CONCLUSION AND DOWNLOAD LINK
If you are looking for a new disc burner, I cannot recommend CDBurnerXP enough. It was simple to use, quick to install, and I did not have one problem burning a disc. Of course, you don't have to take my word for it. CDBurnerXP is completely free. So go ahead and visit their official site to download it today.
Price: Free
Version reviewed: 4.5
Supported OS: Windows XP / Vista / 7 / 8
Requires .NET Framework 3.5
Download size: 5.46MB
VirusTotal malware scan results: 1/43
Is it portable? No
Related Posts