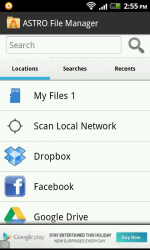 I love my Android phone, but organizing things has always been kind of a pain. The best way to organize things on your phone is to hook it up to your computer. This gives you the best control. However, there are times that I am on the go or don't have my computer handy. It is times like these that I want a file organizer and browser on my phone. As luck would have it, that is just what ASTRO File Manager is…and then some.
WHAT IS IT AND WHAT DOES IT DO
Main Functionality
ASTRO File Manager is a program to help you organize and view files on your computer. This includes pictures, videos, music, documents, etc. However, the program does not stop there. It also allows you to view files stored on cloud services, like Dropbox, Google Drive, SkyDrive and Facebook Photo Albums. It even comes with helpful tools like a task killer, app backup service and a SD card usage analyzer.
Pros
Gives you complete file management (delete/copy/move/etc.)
Allows you to manage data stored in cloud services like Facebook Photo Album, SkyDrive, Google Drive, Dropbox and more
A swipe to the left will bring up helpful tools, like an app backup program, task killer and even an SD card usage indicator
Supports 11 different languages
ASTRO can be used to view pictures and documents
Cons
Not all of the tools it gives you access to are necessary, and usually you will already have an app to handle that task. For example, most people already have a task killer installed on their phone and don't need another one.
Discussion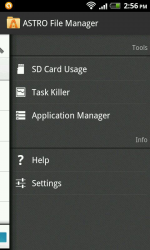 I am a very OCD person. I really like to keep my stuff organized. When something gets saved to my phone, I want to know where it is. Better yet, I want to have control over all my documents, pictures, movies, etc. That being said, arranging things on a mobile phone has never been the easiest feat, unless you are hooked up to a computer. ASTRO File Manager looks to change all that.
First and for most, ASTRO File Manager is an app that helps you…well…manage your files. It gives you the ability to delete, move, and copy files on your phone. If the benefits stopped there, the program would still be pretty good, but ASTRO File Manager goes above and beyond its call of duty.
For example, the app also comes with other helpful tools that you can use by simply swiping left when using the app. Here you will find things like a task killer which will give you the option to stop processes that may be burning down your battery life. There is even a backup system that will help you back up your apps in case you need to replace or restore them.
ASTRO File Manager also gives you the ability to manage files in cloud storage devices. With a swipe to the right of the screen, you can easily access cloud storage systems like Google Drive, Facebook Photo Albums, Dropbox, SkyDrive and more. You can even use this program to view photos and documents (just choose to open the picture with ASTRO Photo Viewer).
CONCLUSION AND DOWNLOAD LINK
ASTRO File Manager is a great program, because it does so much more than just let you manage your files. All of this is set up in an easy-to-understand interface. If you are looking for a new file management system on your phone, ASTRO File Manager is worth your time to check out.
Price: Free
Version reviewed: 4
Requires: Varies by device (test on Android 2.3.4)
Download size: 3.9MB (varies by device)
ASTRO File Manager on Play Store
Related Posts