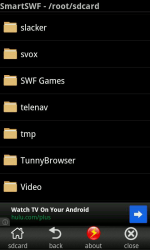 There are a lot of things you can use your Android phone for. That is one of the great things about the Android operating system. Now, you can add viewing flash files stored on your phone to that list thanks to Smart SWF Player. This is a small application that allows you to view and play flash files (.swf) store locally on your device. Yes, there are other ways you can go about doing this, but Smart SWF Player makes it quick and simple.
WHAT IS IT AND WHAT DOES IT DO
Main Functionality
Smart SWF Player is an app that allows you to view and play flash files (.swf) that are stored locally on your phone. This does include files that are stored on your SD card. Now playing flash files when you are not online is not only possible, but easy. This is the perfect app for people who like flash games, animations, etc.
Pros
Can play flash files stored locally on your phone
Able to read flash files stored on your SD card
Can play flash animations, games, apps, and more
Supports both landscape and portrait full screen modes
Extremely small program; won't take up much room
Does support and offer play controls
Cons
The .SWF files you want to run using this device must be stored locally on your phone or SD card — they cannot be streamed from a website
Discussion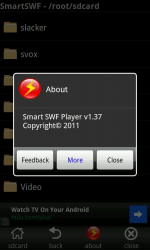 Flash is a very important part of the internet. There are many games, apps and animations that use it to run. Your internet browser has the ability to play these files, but it can be a real hassle playing these files when you're not connected to the internet. That is where Smart SWF Player comes in.
This small program is able to read flash files (.swf) that are stored locally on your phone. Whether you find a way to download these files by way of your phone, or you download them on your home computer and then transfer them to your phone, you can bet that this player can play them.
When you think of playing .swf files the first thing that comes to mind is flash games. This is pretty typical since there are so many flash games out there available to play. I was able to try out a number of flash games using this app, and they all work perfectly. If you have a physical keyboard on your phone (like me), then you can basically play any flash game you find online right on your phone. If you have a virtual keyboard, things can become tricky, as when you tap the touch screen it counts that as a mouse click. So if you are trying to use the keyboard and do a mouse click at the same time, things can get a bit complicated.
Of course, the app does more than just play games. You can also use it to view any animation or app that runs as a .swf file. I tried out a few apps and animations, and they all ran without fail. Also, since the app supports both portrait and landscape in full screen, you should be able to watch your app or animation in the view you want to see it in.
The biggest problem with the app is the fact that the .swf files have to already be stored on your phone for you to use them. Thus, you have to go out of your way to download .swf files and put them on your phone. This is not a challenging task by any means, but is an extra step that I wish could be avoided. For example, if this program was able to grab .swf files right off the internet for you, it would be perfect.
CONCLUSION AND DOWNLOAD LINK
Smart SWF Player is a great app that works without fail. I had no problem running any of the flash files I wanted. This was kind of unexpected since the app is so small. That being said, I wish it had the ability to store .swf files you come across on the internet instead of you having to download them yourself at a later time. If you want to play local flash files on your phone, I recommend giving Smart SWF Player a shot.
Price: Free (Pro version available)
Version reviewed: 1.37
Requires: 2.2 or higher
Download size: 427KB
Smart SWF Player on Play Store
Related Posts