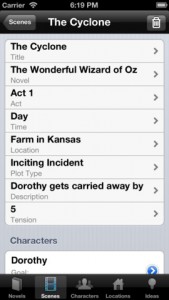 When I'm not writing app reviews or TV recaps, I'm writing fiction. And as any writer knows, you can never really control when a creative story idea will rears its head and stop you in your tracks. For recording story ideas on the go, I've just been using the Notes app (or sometimes a voice recorder for ideas late at night when my brain can't handle typing.)
Now, however, I'm using a new app. It's called A Novel Idea, and it's a clever way for writers to collect, review, and organize their ideas.
What is it and what does it do
Main Functionality
A Novel Idea has two main functions. Firstly, you can use it to jot down information relating to your characters, locations, scenes, and general story ideas. Secondly, A Novel Idea allows you to link different, disparate ideas together, creating the narrative thread of a novel from many separate story elements.
Pros
Simple, easy-to-navigate design
Easy to "link up" different story elements, like taking a character idea and linking them to the perfect setting
Tiny app: takes up just over 1 MB of space on your device
Ability to go into a ton of detail, or just sketch the bare bones of an idea
Prompts in certain sections help you to refine your ideas
Cons
Upgrading to Pro features via in-app purchase costs $2.99, but the Pro version has some awesome features
Animated banner ads are really distracting when you are frantically trying to type in plot details before you forget them
Photo feature has been temporarily removed in this version of the app (Version 1.12.8) for unknown reasons
Some users complain the interface is too simple and boring (I personally like it: it keeps the app as distraction-free as possible)
Discussion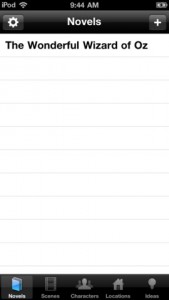 While I'm really bummed that the "photo" feature has been removed from this app, A Novel Idea is still a pretty solid tool for recording your scattered ideas and organizing them into a meaningful string of related ideas. But man, I REALLY hate these banner ads. They all seem to be animated in some way, and they are SO distracting when you are trying to write.
Thankfully, you can upgrade the app to get some better features. The Pro Version, available as an in-app purchase, adds the following features:
Dropbox Syncing
Sync between devices
Scene writing
Word count
Export to iTunes
Email export
The ability to sync with Dropbox and between devices is really key, and well worth the cost of the upgrade. That's actually how Warren Ellis has been writing lately: he writes on the iPad in the morning, syncs with Dropbox, and resumes writing later in the day on his laptop.
One thing I really enjoyed were all the prompts. When you start a new character listing, you have all kinds of blanks to fill in: name, age, species, description, external conflict, internal motivations, education, fears, past residences, and more. Having all those prompts helps you to start fleshing out your ideas right away.
Conclusion and download link
The banner ads are really obnoxious, but the core functionality of A Novel Idea is solid. This is officially my new go-to app for recording my story concepts while I'm on the go. I think when I eventually upgrade, having that ability to sync with Dropbox will make this a way more useful tool for writing. If you're a writer, definitely give this app a spin.
Price: Free
Version reviewed: 1.12.8
Requires iPhone/iPad/iPod Touch, iOS version 4.3 or later
Download size: 1.1 MB
A Novel Idea on Apple App Store
Related Posts