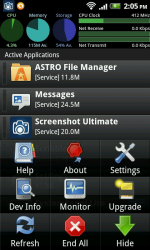 I like to keep up with what's happening on my smartphone. This is why I love using system monitoring apps. I want to know how much memory, CPU, etc. I am using. That is what brought me to SystemPanel Lite. This is a free app that promises to deliver detailed information to me about my device. So let's see how well it works.
WHAT IS IT AND WHAT DOES IT DO
Main Functionality
SystemPanel Lite is a free task manager and system monitor for your smartphone. There are no ads to speak of, but there is a pro version that you can upgrade to, if you want more features. This app will display information about CPU, memory, storage, what applications are running (including service only applications), and what apps are inactive but still in your system's cache.
Pros
Provides you with detailed information about your device but in the form of stats and a pie chart
Lists information about the apps running on your phone. This includes the currently active tasks, service only processes and inactive applications that are in your phone's cache
Device info button provides detailed information about your phone, which includes: Display, runtime, Java, operating system, CPU, and device information
Provides information about "Power". This includes information about your battery (temperature, charge, health, etc.) and if you are connected by a USB or AC power source
Provides information about your network connection. This includes telephony information, Wi-Fi networks and network interface
Cons
If you want the app to also act as an installer/uninstaller and a long-term application resource monitor to help solve app-related battery life problems, you will have to upgrade to the pro version ($2.99)
Discussion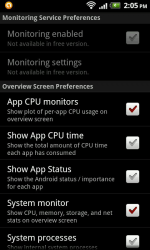 While using SystemPanel Lite, I noticed that it pretty much felt like a basic system monitoring app. There are many other ones like it on the market, but this one seemed like it was one of the easiest to use. It provides easy-to-read stats on your phone (both in text and pie chart form) and clearly lists the programs that are running. If you have apps that are draining your battery, this app can help seek them out.
That being said, the information it provides you with is not groundbreaking by any means. The good news is, however, it provides you with most of the information you need to know about your phone. This includes (but is not limited to): CPU, memory, storage, running apps, battery temperature, etc. The program does provide information on dual-core processors. If you only have one, the second one will be left gray. If you have two, and one is still gray, that means that your second CPU is asleep or in low power mode (more than likely to help save battery life).
As with most system monitoring systems, SystemPanel Lite will require certain permissions to run. Keep in mind that the phone does not send any of the information about your phone to anyone. It requires internet access only to read and monitor your network connectivity stats. I just wanted to point this out since some people get worried when they read through the permissions you have to grant certain apps.
CONCLUSION AND DOWNLOAD LINK
Using SystemPanel Lite was extremely easy. The program is set up in a very user-friendly way. So even if you don't understand much about the stats you are looking at, you will still be able to use this app. Although, if you don't understand what you're looking at, I guess this app doesn't do you any good anyway. Overall, I feel this is a good monitoring system for your phone. If you are looking for one, I would give SystemPanel Lite a try.
Price: Free
Version reviewed: 1.1.2
Requires: Android 1.5 or higher
Download size: 705KB
SystemPanel Lite on Play Store
Related Posts