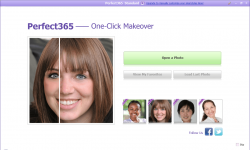 Have you ever wanted to add makeup to your photos with the click of a button? Can't say I have…but I guess there is a market out there for this kind of software. In truth, Arcsoft Perfect365 Standard is kind of like a photo editor. However, instead of "editing" the photos in traditional ways…you do it with makeup. Of course, what you really want to know is if the program is worth your hard earn cash. Find out blow!
WHAT IS IT AND WHAT DOES IT DO
Main Functionality
Perfect365 Standard is a one click portrait makeover program. All you do is input photos you want to remake, and then with a few clicks of your mouse, you can add makeup to these photos. The program supports multiple face detection in one photo, and allows you to share the photos you edit with Facebook, Twitter and Flickr. The program also allows you to save and print the pictures you edit in their original resolution.
Pros
Add makeup to your photos with the click of a button
Detects multiple faces in each photo
Print and save your pictures in their original resolution
Cons
Not worth the money
Most people would probably prefer a "typical" photo editor for more control
Some of the makeover options come off looking very fake and cheesy
Discussion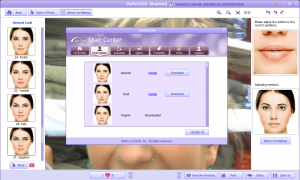 I like to give every program the benefit of the doubt. I try to go in with an open mind so that I can see a program for what it is worth. After doing that with Perfect365 Standard, I am still not confident that it is worth the money. Not only that, but this program is only going to benefit a very select few people. That being said, let's get into the pros and cons.
So what can you do with Perfect365 Standard? The best way to describe it is by saying that it is a picture editor of sorts. I say this because it lets you edit the look of a picture. However, you are very limited in the way you can edit these pictures. After all, the program bills itself as a makeover program. Thus, the only changes that you can make to the photos are, of course, makeup.
There are a lot of options to choose from in terms of makeup. You can literally take a picture of you without any makeup on…and…well…make it look like you have on makeup. Sometimes this works very well, and it looks natural. Other times, it is so apparent that it is fake and not even worth your time. If you do manage to make a decent looking picture, the program does allow you to share these programs by way of social media sites like Facebook, Twitter and Flickr.
One cool feature in the program is its ability to recognize multiple faces in one photo. Thus, it is possible to add makeup to a group of people. The detection on where to place the makeup is not always spot on. The good news is you can go back and adjust the points on the face where the makeup is placed.
In the end, it is a fun little program to use, but I don't feel that it is worth the price tag. This is a program that should be free or ad-supported at most. Instead, they want you to pay $29.99 for the standard version. If you really like the program (for whatever reason) you can even by a pro edition that costs $79.99. This is WAY too much for what the program does.
CONCLUSION AND DOWNLOAD LINK
In the end, I do not feel like there is enough value in the program to recommend buying it. Of course, you can try it yourself by visiting the link below. Just click to download the program, and you will get to enjoy their free trial, which places watermarks on your pictures. However, unless you want to add makeup to your pictures I would stay away from this one.
Price: Standard Version $29.99
Version reviewed: 1.8.0.3
Supported OS: Windows XP / Vista / 7
Download size: 17.8MB
VirusTotal malware scan results: 0/38
Is it portable? No
Related Posts