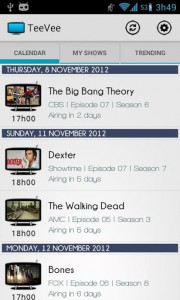 TeeVee is an app that aims to keep you in touch with all of your favorite TV shows by giving you all of the information you need about them. This app is great for people who have difficulty keeping track of TV guides and DVR schedules. It is also great for those who just want to know a little bit more about their favorite shows.
What is it and what does it do
Main Functionality
This app is simply designed to give you accurate and consistent information about any show in its database.
Pros
Access information on over 5000 Tv shows
No sing-in required
Offline support
Sync air dates with Google Calendar
Share TV shows with others
Widget with multiple themes
Cons
Sluggish
Cannot mark watched episodes
Annoying notifications
Discussion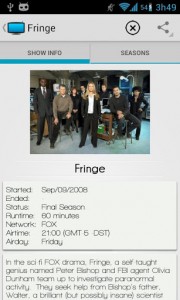 TeeVee is an application that attempts to simplify your Tv watching and take all of the guess work out of finding shows to watch. You can find out all of the information you want about over 5000 Tv shows stored in the TVRage.com database. You will be able to see the dates that the show started and the dates that the series ended. It will also tell you the air date and time of every episode so you never have to miss something. Additionally, it will tell you the runtime and the network that you'll be able to watch the show on. This makes organizing and viewing your favorite shows incredibly easy and allows you to free up time searching for shows and scheduling TV time.
TeeVee will also make using the actual app a real pleasure. For starters, you don't have to sign in so you can access the information you want very quickly. On top of that, there is offline support. This will allow you to have access to your show information even when you are in areas without a reasonable internet connection. Additionally, you can sync show airing dates with your Google Calendar so you can always know when a show is going to air. If you've found a show you are particularly fond of, you can share it with others through all the popular portals.
While TeeVee can be incredibly convenient, there are a couple short comings. For starters, the app can be incredibly slow at times. It is unclear as to whether this is a problem in the app or if it is a problem with the TVRage.com servers. Additionally, you cannot mark episodes you have already watched. This is in part due to the fact that there is no sign-in process so there isn't any personal data stored. On top of that, the notifications you receive for shows can be useful, but are normally just annoying and intrusive.
Conclusion and download link
Overall, this app can be incredibly useful if you are a TV junkie who has difficulty keeping track of shows. While there are some minor downfalls, they are nothing a couple updates can't fix. However, this app really has a limited use and will probably have its days numbered due to the rise in popularity of DVR's and on-screen TV guides. However, there are some features packed into this app that you won't find in your traditional cable interface.
Price: Free
Version reviewed: 2.1.5
Requires: Android 2.0 and up
Download size: 1mb
TeeVee on Play Store
Related Posts