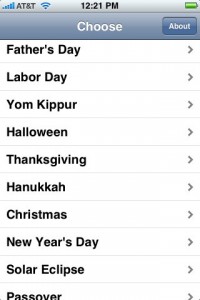 Do you know what I find myself Googling most often? No, it isn't "When is the next season of 'Game of Thrones' premiering?" It's usually a query about when a certain event or holiday will next take place, like "When is Daylight Savings time?" or "What day of the week does Hannukah start on this year?" Now, I found a handy app that answers all my upcoming holiday questions: IsWhen, developed by Patrick Byrne.
What is it and what does it do
Main Functionality
IsWhen provides users with a long list of commonly celebrated holidays and semi-annual events. Users tap on each event, and can then see the next time that event is scheduled to be held.
Pros
Takes up virtually no room on your device
Lets you filter out events you're not interested in
Includes additional details for events with end dates and events that start at sundown
Shows you the next date for the upcoming holiday, as well as the date for the year after, all on the same screen
Tells you both calendar date and day of the week for each event
Includes a selection of Christian, Jewish, and Muslim holy days, as well as some international holidays and equinoxes
Cons
Hasn't been updated since 2009 (though this doesn't seem to affect dates or performance, really)
Very bare, stripped down interface with no seasonal themes (which might actually be a plus for some users who think that icons/decorations for each holiday would be cheesy)
No search function, users have to scroll through events to find what they want
Events are organized by chronological order, with upcoming holidays listed first. Some users would probably prefer an alphabetical list of holidays
Hindu festivals, Boxing Day, Arbor Day, and other fairly common holidays are not included
No calendar view
Past user reviews have critiqued the app for getting a date of a holiday wrong
Discussion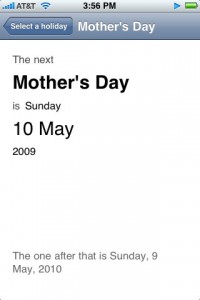 IsWhen's user interface is super easy to navigate. You are presented with a list of holidays that is organized chronologically, with upcoming holidays at the top. Tap on the holiday you are curious about, and you will get its calendar date (and day of the week that it falls on.) You also get the same information for the next occurrence of the holiday.
If you live in the United States, you'll likely be pretty pleased with the list of holidays that has been chosen. They're all quite common, with a decent array of major holidays for different religious groups. It's a good list of major holidays, and I actually like the fact that it's not 100% comprehensive. Wading through all kinds of minor holidays like Secretary's Day or Sweetest Day would make this app harder to navigate.
However, it would be nice if you were able to customize the app with your own important dates, like birthdays or even those "minor" holidays like Secretary's Day, especially if you're a boss who's forgotten about getting a gift for your administrative assistant for the third year in a row.
Conclusion and download link
While it would be nice if IsWhen let users add their own holidays, it's nice that you can filter out the holidays that you don't care about. If you are constantly wondering when the next holiday is, IsWhen is a free, small, and helpful app. Definitely worth keeping this tool tucked away on your Phone year-round. The interface is bare-bones, but the utility is solid.
Price: Free
Version reviewed: 2.0
Requires iPhone/iPad/iPod Touch, iOS version 3.1.2 or later
Download size: less than .1 MB
Related Posts