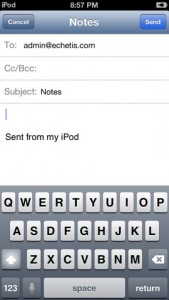 I live in my email, and the easiest way for me to remind myself about an article I want to read, or a project I need to start working on, is to send myself an email. I know, I know: I could be using the Reminder app on my phone, or a tool like "Read It Later" (aka Pocket.) But I'm stuck in my ways, and emailing a link to myself is often the quickest and most efficient way to leave myself a little note.
Since I'm always sending myself email, I thought I would check out To: Me, an iPhone app developed by Echo Metis LLC.
What is it and what does it do
Main Functionality
To: Me lets you send an email to yourself with just one click. Alternatively, you can use it to send an email to any other frequently mailed person (perfect for emailing a shared mail account that's shared by all of a department for brainstorming purposes, or for sending a loved one a string of links to certain resources, like wedding ideas.) This app simplifies the process by removing the need to open the Mail app, create a new message, and type in your own address.
Pros
Takes up a fairly small amount of space on your device
Saves you a little bit of time when sending an email to yourself, especially compared to the "email this article" buttons on some websites
Optimized for iPhone 5 users
Simple interface is easy to set up and navigate
After setting up your email, a pre-formed message will open up as soon as the app launches
Echo Metis LLC supports Multiple Sclerosis research. Founded in the wake of an MS diagnosis, 10 percent of their net revenue goes directly to help fund further MS research.
Cons
Some users will prefer a different organizational tool like Read Me Later/Pocket to sending themselves an email
Despite being such a simple app, To: Me only runs on devices with iOS 6.0 or later, which seems a bit odd
Only does one task– users looking for a more robust mail app should look elsewhere
Saves time…but not a lot of it, really
Discussion
Okay, I'll be the first to admit, To: Me doesn't save you all that much time. After all, how long does it really take to launch the Mail app, hit "new message," enter your email address, and compose a message? Still, To: Me does shave a few seconds off the normal email composition time, and that does add up.
If you're not already in the habit of emailing yourself reminders, important documents, or interesting links to review later in the day when you have more time, then To: Me simply isn't going to appeal to you, or your personal organizational style. I think a lot of people will download this app, hate it, and delete it right away. But for people who live in their inbox, this is a handy tool indeed.
After setting up your email, a pre-formed message will open up as soon as the app launches. You can then insert media, text or links with ease. It's a very simple app, but it accomplishes what it set out to do, and it does it well. It's not fancy, but it works.
Conclusion and download link
To: Me is a very simple app. Because it doesn't have a lot of bells and whistles, it may not appeal to everyone. But if you're already in the habit of sending yourself links, reminder emails, and other messages to help you stay on task, this is a time-saving app that's worth checking out. Plus, Echo Metis LLC supports Multiple Sclerosis research. Why not support a company with a cause, especially when what they're offering is a free app?
Price: Free
Version reviewed: 1.2
Requires iPhone/iPad/iPod Touch, iOS 6.0 or later
Download size: 5.1 MB
Related Posts