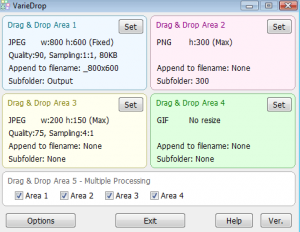 Do you store a lot of pictures on your computer? Better yet, do you need to resize a bunch of pictures to the exact same dimensions? If so, VarieDrop is the perfect tool for you. This is a program that actually lets you batch resize and convert your images. However, you can even use this program to quickly convert pictures to many different sizes.
WHAT IS IT AND WHAT DOES IT DO
Main Functionality
VarieDrop is a program that actually supports drag and drop. The program is set up with four different areas. Each area can be set up to resize your images to a different size. Thus, if you have four different sizes you are always converting images to, you can use this program to help speed up the process.
Pros
Easy-to-use drag and drop interface
Set up different profiles to easily convert pictures to the required size
Offers "Setting2One" option (explained in the discussion below)
Program can be added to your right click "send to" option
Cons
Not as helpful for people who don't convert and resize a lot of images
Discussion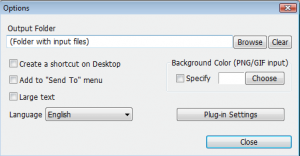 There are tons of programs out there that will let you resize images and convert them to other file types. However, there are few programs that allow you to set up different "resizing" profiles. In short, this is what VarieDrop does. Sure it has some other functions as well, but the fact that it allows you to drag and drop image files to be resized quickly is why most people use it.
Here is how the program works. Simply set up profiles in one of the four sections displayed on the program's main interface. For example, maybe you need pictures to be all the same size on your blog or if you are printing out certain sized pictures and need them all to be the same size. After you set up the different profiles, simply take the picture you want to resize and drag and drop it to that profile section. The program will apply all of the changes. It is that simple!
VarieDrop also offers Settings2One. This is a very cool feature that allows you to define a width only or height only profile. When you do this, the other dimension will be calculated and automatically set to keep the same aspect ratio.
One of my favorite features was the ability to add VarieDrop to your right click menu. Simply right click an image, hover over "send to" and you will see VarieDrop listed. This way you can just send pictures right to the program without even having to have VarieDrop open first.
The program is extremely useful, but it's mostly helpful to those of you who like to resize images a lot. After all, if you only do a little bit of resizing, you probably already have a program that helps you do that. Since you don't do it often, using this program is probably not too time consuming. However, if you do lots of resizing you may be able to save yourself a ton of time this way.
CONCLUSION AND DOWNLOAD LINK
Since the program is free, and it does work, I do recommend the program. However, I can only recommend it to those of you who are continuously resizing images. For anyone else, it is unlikely that you are going to find this program very useful. At least, since the price tag is free, you can try out the program and see if it is worth your time.
Price: Free
Version reviewed: 1.1.4.0
Supported OS: Windows XP / Vista / 7
Download size: 730KB
VirusTotal malware scan results: 0/40
Is it portable? No
Related Posts