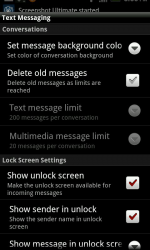 Have you ever wanted to change the way your text messages look on your Android phone? Well, now you can thanks to ThumFly Technologies' Text Messaging. In short, this is an app for your phone that is supposed to upgrade the texting system that comes on your phone to start with. So let's see what the app has to offer!
WHAT IS IT AND WHAT DOES IT DO
Main Functionality
Text Messaging is an app for Android devices that improves the texting system you already have on your phone. After installing, it completely integrates with the messages you already have installed. This means, you won't miss a thing when switching to this new system. In general, the app just gives your text messages a "smoother" look and feel. However, it also comes with some upgraded features, like the ability to change your conversation background colors.
Pros
Text Messaging is fully integrated with the messages you already have on your phone and with your phone's resources
Offers an intuitive lock screen notification feature
Integrated spell-checking
Auto-splitting feature for all of your messages that go over 160 characters (for users on a CDMA network)
Edit the background color of your conversations to give your phone more personal appeal
Automatically delete old messages
Cons
The overall system feels a bit sluggish compared to the messaging system that came pre-installed on my phone
Discussion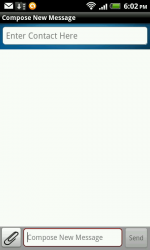 I am always looking for the next big thing. However, I have done very little in terms of upgrading my text messaging system on my phone. Recently, ThumFly Technologies released an app called Text Messaging (not the most original name). So this got me wondering…is it better than the text messaging system I am already using?
Setting up the system is about as easy as it can get. Once you download it, the system kicks in. All of your contracts, messages and phone resources will be integrated with this new app. It is all automatic, and you don't have to do a thing.
Right off the bat I can tell that the overall look and layout of the app is better than my previous text messaging system. It looks more "up-to-date" and fun…at least compared to what I was using. Just like the system I am sure you are using now, you can send both normal text messages, as well as multimedia messages.
My favorite feature that the app offers is integrated spell checking. Sometimes when I get in a hurry…well..spelling isn't my friend. This goes double when I am trying to type on my phone. This app was able to catch a number of mistakes I made (including the ones I did on propose to test it). Although there are other systems that offer this same feature, I really felt like this one was well done.
Another cool thing about the system is the fact that you can customize the colors of your conversations. No, this doesn't improve the functionality of your system, but it does make them look more personal, and I like that.
The only problem I had was with the speed of it. If you quickly flick through your messages or your contacts, there is some noticeable lag. This happened on my myTouch 4G Slide, which has dual core processing. So I can imagine that it may be even worse for other phones.
CONCLUSION AND DOWNLOAD LINK
The slow speed of the app was a minor setback. Overall, I felt that the program was easy and fun to use. I actually found myself liking it better than the text messaging system I had on my phone before. So if you're looking for a bit more control over your text messages, try Text Messaging from ThumFly Technologies. It's free, and works on Android 2.2 and higher.
Price: Free
Version reviewed: 1.1.136
Requires: Android 2.2 and higher
Download size: 1.2MB
Related Posts