In an earlier article, I showed you how to get Windows Media Center for free in Windows 8. Additionally, I explained the issue that it changed my product key from Windows 8 Pro to Windows 8 Pro with Media Center. Despite removing Windows Media Center, the product key didn't come back to normal. If you want to reinstall Windows 8 with your purchased product key, this is an article you may read.
HOW TO COME BACK TO WINDOWS 8 PRO
First of all, you need to have the Windows 8 installation. It may be a DVD or a mounted ISO installation file. The other thing you have to prepare before starting is your valid product key of Windows 8 Pro.
Then, you should follow these steps.
Open Registry Editor by pressing Windows key then type "regedit" (without the quotes) and choose "regedit.exe" result on the left. If you are using a table, you should wipe from the right screen edge, select "Search" then type "regedit" and choose "regedit.exe" result.
In the left side, you should navigate to this location
HKEY_LOCAL_MACHINE\SOFTWARE\Microsoft\Windows NT\CurrentVersion
In the right side, you should change these followed values by double click on a property then change the field "Value data."

Change the value of "EditionID" from "ProfessionalWMC" to "Professional."
Change the value of "ProduceName" from "Windows 8 Pro with Media Center" to "Windows 8 Pro.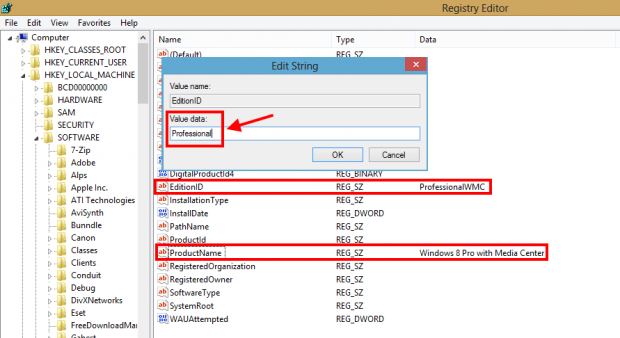 After that, you need to go to your Windows 8 installation drive and run "setup.exe" file in order to open Windows 8 Setup.

In "Windows 8 Setup" window, you will be asked to enter your product key. Then you have to choose "Keep Windows settings, personal files and apps" in the "Choose what to keep" step.
Now, what you need to do is just wait for the process to complete.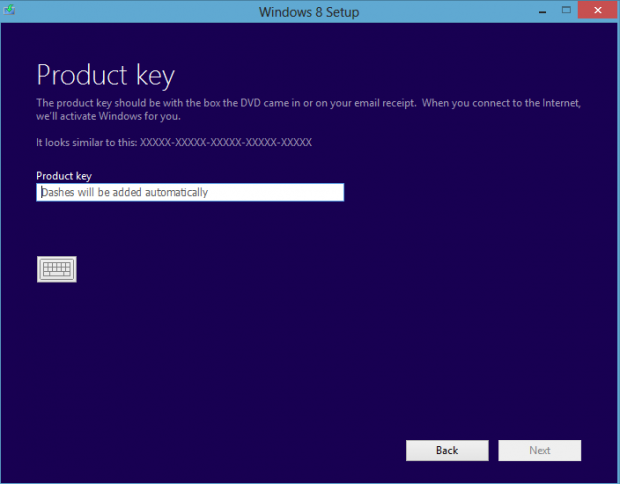 CONCLUSION
Enjoy!
Related Posts