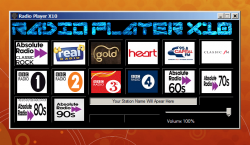 When I am working on the computer, I love to listen to music. Since I sometimes have to take my work with me, I am not always at home to listen to my CD player or radio. That is why I have fallen in love with internet radio. However, I have always wished that there was an easier way to search and play my favorite stations easily from my desktop. Well, Radio Player X10 promises to be just the program I have been looking for.
WHAT IS IT AND WHAT DOES IT DO
Main Functionality
Radio Player X10 is a radio player that allows you to listen to your favorite internet stations without the hassle of searching the web for a broadcast. Radio Player X10 was originally part of Media Player X10, but due to its popularity, it was made into a standalone version.
Pros
Extremely easy to use
Popular music stations for you to easily click on and listen to
14 stations available for you to listen to
Not resource hungry
Cons
No way to add in your own favorite stations
Button graphical problems (on vista)
Discussion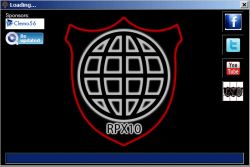 Radio Player X10 is a good program, but it falls just short of being great. The program does allow you to listen to great internet radio stations, but they are pre-loaded in. So this means that the 14 stations they give you are the only ones you can listen to. Although they have some great choices, it would have been nice to be able to stream favorite stations.
The stations you have access to are: Absolute Radio Classic Rock, Real Radio, Gold, Heart, Capital FM, Classic FM, BBC Radio 1, BBC Radio 2, BBC Radio 3, BBC Radio 4, Absolute Radio 60s, Absolute Radio 70s, Absolute 80s, and Absolute Radio 90s. Most people should be able to find a radio station that they want to listen to from this list.
To play a station all you have to do is click on that station, and the program does the rest. You can control the volume right from Radio Player X10 if you want. There are some other buttons, but they did not display correctly in Vista. However, after some trial and error, I found out that these buttons are "Stop", "About" and "Close."
The real problem with this radio station is that it feels dated when compared to all of the other ways you can listen to your favorite music nowadays. For example, people usually listen to things like Last FM or Pandora Radio. This way you can make stations that play only music that you like.
However, if you really like music from, let's say…the 90s, this program is going to play all the hits for you. This could make it a lot easier for people who don't want to take the time to set up a Pandora account. I listened to a few of the stations for a bit, and they do play some pretty good music (assuming you like music from the era you choose).
CONCLUSION AND DOWNLOAD LINK
In short, Radio Player X10 is a good program, but it's not great. Most of you probably have your own way of listening to music on your computer, and this program has nothing new to offer you. However, if you just want a few pre-loaded stations, Radio Player X10 has just what you need.
Price: Free
Version reviewed: 1.0
Supported OS: Windows XP / Vista / 7/ 8
Download size: 1MB
VirusTotal malware scan results: 0/46
Is it portable? No
Related Posts