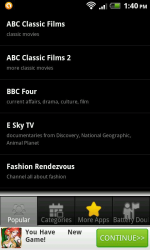 Do you want to watch live TV right from your Android device? What if I said that you can watch live streaming on your device for free? Well you can with Free Live TV. This is a program that allows you to watch free TV programing from around the world.
WHAT IS IT AND WHAT DOES IT DO
Main Functionality
Free Live TV is an app that gives you access to tons of live TV channels for free. These channels include cartoons, movies, music, sports, anime, and more. Some of the popular channels they offer include Ultimate Anime TV, BBC Four, Fox 8 News, Swimsuit TV, and many more.
Take note all the available channels are streamed through a Livestream.com stream. The legality of the streams is questionable — proceed at your own risk and realize that, if a stream if illegal, it may be shut down at any time.
Pros
Tons of channels to choose from
Tons of categories make finding the channels you want to watch easy
Channels load quickly
Cons
Puts links to other Play Store Apps on your Android home screen every time you start up the app (aka spam)
Some channels offered are not in English and have no subtitles
Quality of some of the streaming channels is on the low side
Was not able to mark my favorite channels
The number of available channels is limited — don't expect to find all your favorite channels on here
Discussion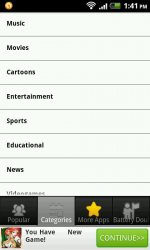 I was not expecting much out of Free Live TV when I gave it a shot. I have tried other similar apps before and was never impressed. However, after spending a bit of time with this app, I actually found a few channels I felt were worth watching…I mean as far as free goes. It has tons of channels to watch, and they break these channels up into categories including Movies, Music, Cartoons, Video Games, etc.
Some of the channels they have on there are questionable at best. I mean, the Swimsuit channel?! Yeah, it's a whole channel decided to watching models in swimsuits. However, most of the videos look aged a bit, so you are actually watching old videos of models in their swimsuits. Maybe they show other things, but I didn't care to watch long enough to find out.
There were some other channels that were pretty interesting. If you're into classic movies, there are tons of channels for you to watch. Every one I checked was playing a different classic movie. They even have some music channels to watch, which gave me that old MTV feel. You know, when MTV actually played music videos. Most of the music channels are for other countries, so you won't know most of the songs. However, I did come across one that was playing "popular" music. I use the word popular loosely here, as I did not know the music. But hey, it was in English.
One problem I did have was the fact that a lot of the channels turned out to be in other languages. Some had subtitles, but never English subtitles. This made some of the popular channels, like Ultimate Anime TV unwatchable for someone like me who can't read or understand Japanese. That being said, if you do look through enough channels, you will come across English ones. For some reason, I found myself really liking their video game channels. Most of these channels were watching people play though games while talking about them. Either way, there was something kind of interesting about it.
I do have some other minor problems with the app. First, the quality on some channels is almost unwatchable. I only noticed this on a few channels, but still…it was there. The other channels are still watchable, but don't expect great quality. Also, when you finally do find a channel you like, you are not able to add it to your favorites. This option would have been great so you don't have to go searching for your favorite channel again. Maybe they will correct this with an update.Last but not least, every time you open the app, it puts links to two other apps on your phone. These can be easily removed (and it does not install these apps), but it is annoying that it does this.
CONCLUSION AND DOWNLOAD LINK
In short, I recommend this channel for people who want to watch a little TV on the go. Some of the channels are not worth your time, but there are a few gems thrown into the mix. If you give a few of these channels a chance, they make the download well worth your time. I mean, the app is free after all.
Price: Free
Version reviewed: 0.78.99199
Requires: Android 2.1 or higher
Download size: 1.1MB
Related Posts