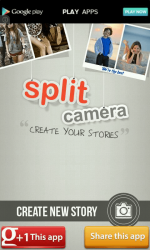 Everyone says that pictures are worth a thousand words. So with five pictures, you should be able to tell a whole story, right? Well, that is the whole idea behind Split Camera. This is an app for your Android device that allows you to put up to 5 pictures together to tell a story. You can than send these "stories" to your family and friends around the world.
WHAT IS IT AND WHAT DOES IT DO
Main Functionality
Split Camera is an app that allows you to take 5 pictures and put them together into one long strip. This strip can be used to tell a story of sorts. Not only can you add pictures to this "strip", but you can also add individual photo effects and text. When you're done, you can post these pictures right to your Facebook, Twitter or other social networking site.
Pros
Take up to 5 pictures and put them together in one long strip to tell a story
Add individual effects to each photo
Add text to each picture to help tell your story
Easily post your finished work to social networking sites, like Facebook and Twitter
Take pictures right from the app or choose pictures you already have stored on your phone
Cons
Ad supported
Taking pictures from the app can be troublesome since it is half screen
Discussion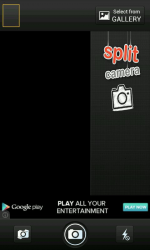 The whole idea behind Split Camera is pretty cool. Pretty much, you are supposed to take a series of pictures, and put them together to tell a story. So let's say you are remodeling your house. You could take a before picture, some pictures following your progress, and then an after picture. Then, you would put these photos together in a comic strip-like setting and send them to people. Now people can see the story of your remodel come to life.
You do have a few options that make this program pretty helpful. For example, you can add individual effects to each of the pictures. You can also add text to each picture to help explain the picture. Last but not least, this program makes it easy to share your photos with popular social networking sites, like Facebook and Twitter.
The program gives you two options for setting up pictures. First, you can choose to take pictures right from the app itself. I don't recommend taking pictures this way, as the program only shows the picture in half-screen. The second option is to upload pictures that are already on your phone to this program and then create your strip.
Split Camera is 100% free, but as with most free apps, it is ad supported. That being said, the ads are not "in your face". So they should not be too much trouble. However, since there is not a paid version, you have no choice but to deal with the ads.
CONCLUSION AND DOWNLOAD LINK
This program is actually a lot of fun to use, and pretty easy to get the hang of. If you have ever wanted to tell a story with your pictures, this is the perfect program to help you do that. Instead of sending multiple pictures to your friends and family to tell a story, send them one strip of pictures, and tell your story that way. Be sure to add in your own text to really get your story across.
Price: Free
Version reviewed: 1.4
Requires: Android 2.2 and higher
Download size: 6.1MB
Related Posts