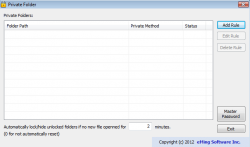 Do you have things on your computer that you don't want other people to see? Well, if so, you may want to try using Private Folder. Like other similar programs, Private Folder is used to protect and hide folders that you don't want others seeing.
WHAT IS IT AND WHAT DOES IT DO
Main Functionality
Private Folder is a program that you can use to protect and hide folders on your computer. This is perfect for people who have folders on their computer that they don't want others to view. The program could be very useful for people who share a computer with others. With so many different options, you can choose exactly how you want to hide your folders and private information.
Pros
Hide folders – Folder will not be displayed in any folder list (including in explorer or command prompt). This will also give users a "Cannot Find" message when the folder is searched for instead of an "access denied"
Password protect folders
Lock Folders – This will lock the folder, which can only be unlocked with the Private Folder configuration tool
Auto relock – If a folder has been unlocked and remains untouched for a certain amount of time (set by you) the folder will relock itself
If the parent folder or the drive letter of the folder you are locking or hiding is changed, the rules for that folder will automatically be adjusted to reflect said changes
Hide and lock applies to all users (including administrators), on all sessions
Requires no change to your file systems
No limit to the number of protected folders you can create
Cons
Accessing your own locked/hidden folders can be kind of a chore
Discussion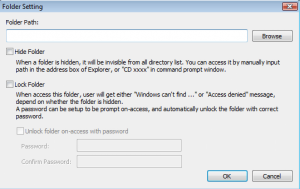 If you are one of those people who likes to keep your stuff protected, Private Folder is for you. There are tons of programs that offer the same kind of features, but Private Folder gives you access to all of these features in an easy-to-use interface. So let's cover some of the features you get with Private Folder.
First, you can lock and hide your folders. Please note, that there is a difference between locking them and password protecting them. With password protect, you need a password to get in (kind of self-explanatory). However, when you lock a file, you can only access that file with the Private Folder configuration tool. So, if the folder was ever removed from your computer, the person who removed it would not be able to access it at all.
There is also an auto relock feature. So let's say that you are in one of your locked folders and you step away to make a phone call. If you are gone for more than 2 minutes (which is a time you can change), the folder will relock itself. This way people would be unable to access it.
Also keep in mind that administrators have no power over these locked or hidden folders. Some programs can be overpowered by administrator controls. Private Folder will keep your things hidden and locked from even the computer's administrator.
Now let's say that the folder you are hiding is stored in a parent folder that you renamed, or your hidden folder was on a drive that now has a different letter (say it was a virtual drive). Well, the program will actually update its information to reflect these changes. Thus, you never have to worry about your hidden files getting lost in limbo because of a folder name change or drive change.
CONCLUSION AND DOWNLOAD LINK
Private Folder is a great program that is very easy to use. Although I already had a folder locker, I have now replaced it with Private Folder. The program is free to use and very small. If you're looking for such a program, Private Folder is worth a try.
Price: Free
Version reviewed: 1.1.70
Supported OS: Windows 2000/XP/2003/Vista/Server 2008/7/8
Download size: 7589KB
VirusTotal malware scan results: 1/46
Is it portable? No
Related Posts