With the new year in full swing, weight loss is on the minds of a lot of people. With Lose It!, you can easily create a weight-loss routine that is actually backed by real reviews, not fake ones as commonly seen in weight-loss services. Lose It! does not guarantee any results because it is up to you to do the dieting and exercising, instead of promising some miracle cure.
What is it and what does it do
Main Functionality
Lose It! is intended to be a simple app that allows you to keep track of the food you eat and exercises you've done. It is not going to tell you specifically what you should be doing, but rather provide a central place to keep track of everything related to your health.
Pros
Simple, easy to use interface
Comprehensive database of food and activities
Enter recipes that use multiple food types
Create personal logs and save specific food types
Track all nutrition information
Barcode scanner
Cons
No spell check for foods and exercises
Cannot plan meals longer than one day in advance
Very little ethnic food
Discussion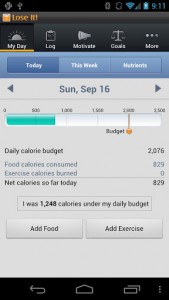 Lose It! is a popular choice for millions of users and has the credentials to back it up. Lose It! is not a weight loss service and doesn't claim to offer any miracle cures for the issue. Instead, it simply offers a practical way for people to record and track what they eat and how they exercise. It has an impressive database of foods and possible exercises. All you have to do is say which foods you've eaten and which exercises you've performed. Lose It! will the provide you with accurate feedback as to where you can make improvements and how long you will have to improve for.
On top of its easy-to-use interface, Lose It! also makes it incredibly easy to enter foods and exercises. It has an impressive database of options that cover the vast majority of the foods you will be eating and the exercises you will be using to work out. You can create recipes by using multiple foods in the database to make more interesting meals. Additionally, there is a barcode scanner that will automatically tell you information about most food items that you can purchase. You can then easily tack all of the nutrition information on the foods you have been ingesting.
While Lose It! is generally great, there are a couple issues that could use attention. For starters, the lack of spell check can be incredibly inconvenient. It's perfectly normal that sometimes, you won't know how to spell a specific food or exercise, unfortunately, if you do misspell, something, what you're looking for won't come up. Additionally, you cannot plan your meals for the entire week. You are limited to only being able to plan meals one day in advance. Finally, if you are into ethnic food, you won't have much luck with this app because the database is seriously lacking in some foreign food that could be less popular in the United States.
Conclusion and download link
Overall, this app is really great. IT doesn't make any promises, but still can work quite nicely when used properly. I would recommend this app to anybody who has a good idea on how to lose weight, but simply has trouble organizing the data. However, if you do not know how to lose weight properly, this app might not be for you because it doesn't specifically tell you what to do or what you should be doing.
Price: Free
Version reviewed: 1.9.6
Requires: Android 2.0 and up
Download size: 16mb
Lose It! on Play Store
Related Posts