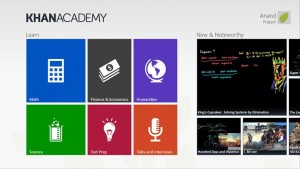 Khan Academy is known for its great work in the field of free online education. The website has been providing videos on various subjects for a long time and is a favorite among students. Recently Khan Academy launched its official app on Windows 8. The app basically pulls the content from the website but it is not just that simple. This app definitely has a few tricks under its sleeve.
What is it and what does it do
Main Functionality
Khan Academy app gives you access to hundreds of hours of free content related to different subjects from their website. Like they say, it allows you to learn almost anything for free.
Pros
Access to the Khan Academy video library of over 3800 videos
Brilliant organization of content
Intuitive UI
Download videos for offline viewing
Managing downloads with real time progress
Snapped mode makes multitasking and researching easy
Cons
Exercises are missing
HD content is missing
Free content means you can't rely upon it completely
The list of videos isn't synchronized
Discussion
This app is a spectacular. Partly because of the coding and mostly because of the content. Khan Academy has being doing a great job providing free education and we here at dotTech support freeware and open source completely. And the app does its job pretty well.
To begin with you have access to hours and hours of free content. Organization of these videos is brilliant. They have integrated organization astutely with the new Metro UI. You can easily search within the app for videos using commands and they also have their own system which is visually similar to Metro UI.
You can download videos for offline viewing. We always are on move and at times we don't have access to internet. This app and a bunch of downloaded videos could make that time more productive definitely.
Also you can manage your downloads real time and you can play or delete them. And the app also recommends videos to watch. And I found multitasking and researching easy and nice with the app snapped up on one side.
This app does have a few features missing though. Features which when added will make the app even better than it already is. One main feature on the website was exercises, and this is starkly missing on the app. I hope they bring exercises soon.
Also there isn't no option to watch the videos on HD. Watching some of the videos on a big screen is a little irky. Sync option is missing. While watching videos from a series, you don't begin from where you left when you close it. That is you have to manually go back to the video and start from where you left.
And though this isn't a con of the app, you can't always completely rely on it. It is like Wikipedia. It is for your reference. And there are a few comments on the videos saying there some mistakes but remember the guy (Salman Khan) behind Khan Academy is also human. And this reminds me of another con. The donate button is also missing.
Conclusion and download link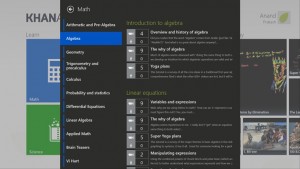 This app is brilliant. The whole concept of Khan Academy is brilliant. And the app has taken Khan Academy to a new frontier. The app does its job perfectly. Organization of videos is top notch and you can easily browse through the huge library. Watching videos online and offline is also good. Though there a few options missing, this is one app you shouldn't be missing. A great download it is.
Price: Free
Supported OS: Windows 8, Windows RT
Supported architectures: x86, x64, ARM
Related Posts