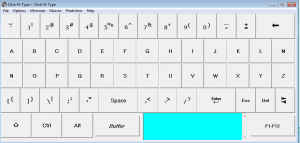 Do you have a broken keyboard? Maybe you have a disability that keeps you from being able to type on a keyboard? Heck, maybe you just like using on-screen keyboards to type in passwords because of key loggers. Whatever the reason, there are a number of people that prefer virtual keyboards. If you are one of those people, you may want to try Click-N-Type Portable.
WHAT IS IT AND WHAT DOES IT DO
Main Functionality
Click-N-Type Portable is a virtual keyboard that you can use on your computer without having to install it. Since the program is completely portable, you can actually extract the program to a USB stick and run it right from there. The whole point of the program is to keep people from having to type on a physical computer keyboard, regardless of the reason.
Pros
Virtual keyboard allows you to type on your computer without the need of a physical keyboard
Features include: word prediction, word completion, scanning modes and multiple languages
Allows for user-designed layouts
Also includes spoken keys for people who are severely handicapped
Cons
Replacing the broken physical keyboard is often preferred as opposed to using a virtual keyboard, which can be cumbersome
Discussion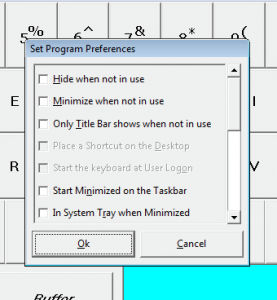 There are many reasons why you may want to use a virtual keyboard. Perhaps your laptop's keyboard is broken, and you don't have a USB keyboard on hand, or you may have some kind of disability that has limited your use of a physical keyboard. Whatever the reason, on-screen keyboards can be great, and that is just what Click-N-Type Portable is.
As far as being a great on-screen keyboard goes, Click-N-Type does its job fairly well. It is not the best, but it is far from the worst I have seen. That being said, the reason why I really like it is because the program is completely portable. Once you download the program, it will ask you where you want to unzip it at. Just make sure that you unzip it to the area you want it stored. For example, if you want it stored on a jump drive, be sure to unpack it there.
The program does offer some other great features as well. For example, it does offer auto completion and auto correction. These two features alone may be enough to make using an on-screen keyboard bearable. From what I was able to test of the features, it did seem to work fairly well. As long as you are in the ballpark of the word you are trying to spell, it's usually able to help you out.
All that being said, I still don't think that this is a program that most people are going to "want" to use. Usually if you are using it, you will be using it because you have to. For example, if your computer keyboard craps out on you one night and you don't have a USB keyboard on hand, you might be forced to suffer through a virtual keyboard until you can make it to the store to pick up an alternative.
For me, the real reason this program could be helpful is for passwords. If you are worried about something like key loggers, this program may be perfect for you, as someone would not be able to read your key strokes (in theory anyway).
CONCLUSION AND DOWNLOAD LINK
Overall, I feel Click-N-Type is a good program that will be able to help out the people who need it. However, I still think that it is a program that you won't even want to use unless you absolutely have to. So unless you just want a virtual keyboard on hand, I would give this one a pass.
Price: Free
Version reviewed: 3.03
Supported OS: Windows NT/98/Me/2000/XP/Vista/7
Download size: 1.18MB
VirusTotal malware scan results: 0/45
Is it portable? Yes
Click-N-Type Portable homepage
Related Posts